"We must unite now or perish" – President Kwame Nkrumah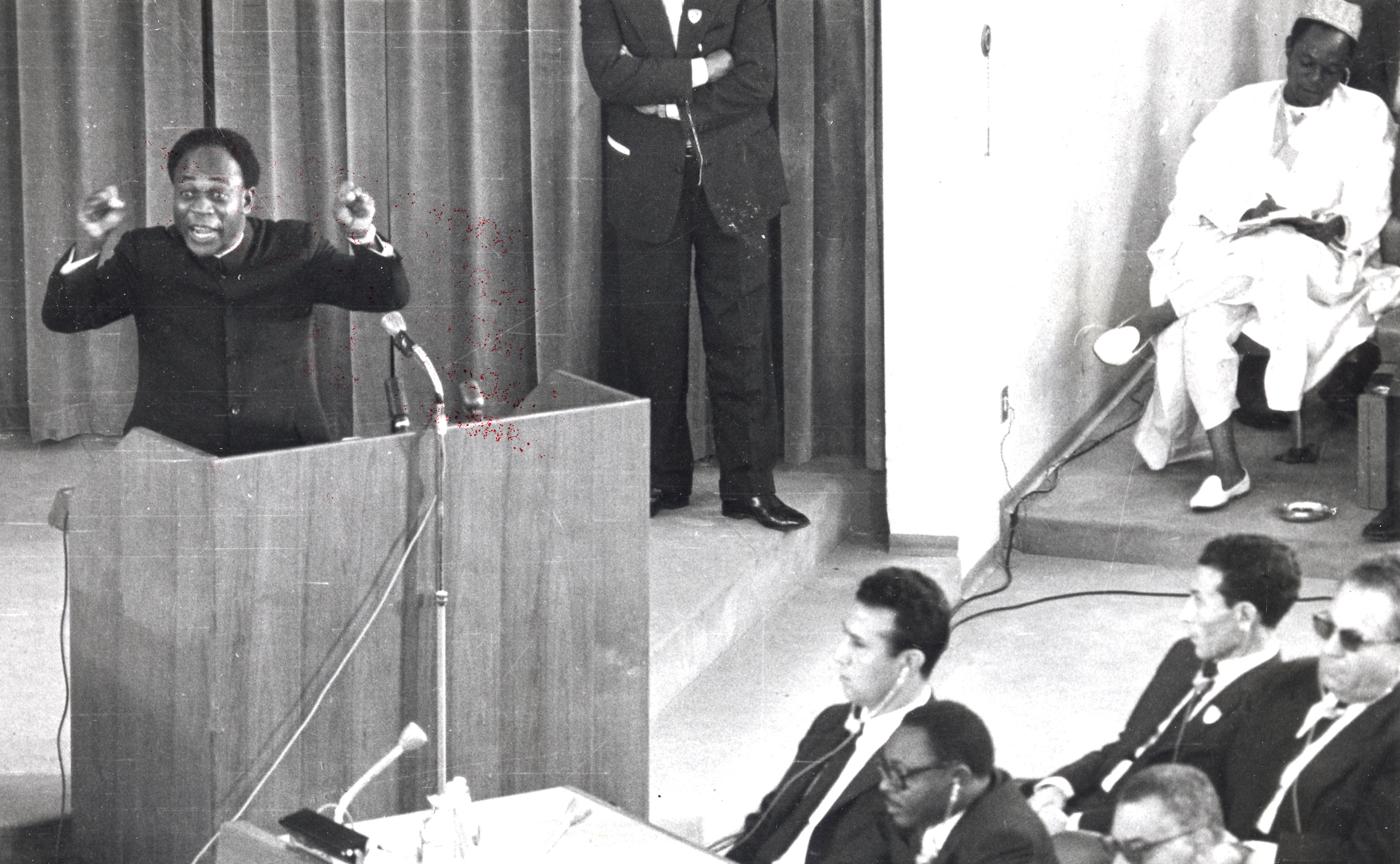 We are African!
We meet here today not as Ghanaians, Guineans, Egyptians, Algerians, Moroccans, Malians, Liberians, Congolese or Nigerians, but as Africans. Africans united in our resolve to remain here until we have agreed on the basic principles of a new compact of unity among ourselves which guarantees for us and our future a new arrangement of continental government. If we succeed in establishing a new set of principles as the basis of a new charter or statute for the establishment of a continental unity of Africa, and the creation of social and political progress for our people, then in my view, this conference should mark the end of our various groupings and regional blocs. But if we fail and let this grand and historic opportunity slip by, then we shall give way to greater dissension and division among us for which the people of Africa will never forgive us. And the popular and progressive forces and movements within Africa will condemn us. I am sure therefore that we shall not fail them.
To this end, I propose for your consideration the following: As a first step, a declaration of principles uniting and binding us together and to which we must all faithfully and loyally adhere, and laying the foundations of unity, should be set down.
As a second and urgent step for the realisation of the unification of Africa, an All-Africa Committee of Foreign Ministers should be set up now. The Committee should establish on behalf of the heads of our governments, a permanent body of officials and experts to work out a machinery for the union government of Africa. This body of officials and experts should be made up of two of the best brains from each independent African state. The various charters of existing groupings and other relevant documents could also be submitted to the officials and experts. We must also decide on a location where this body of officials and experts will work, to be the new headquarters or capital of our union government. Some central place in Africa might be the fairest suggestion, either in Bangui in the Central African Republic or Leopoldville [Kinshasa] in Congo. My colleagues may have other proposals.
The Committee of Foreign Ministers, officials and experts, should be empowered to establish: (1) A commission to frame a constitution for a Union Government of African States. (2) A commission to work out a continent-wide plan for a unified or common economic and industrial programme for Africa; this should include proposals for setting up: (a) A common market for Africa. (b) An African currency. (c) An African monetary zone. (d) An African central bank. (e) A continental communication system. (f) A commission to draw up details for a common foreign policy and diplomacy. (g) A commission to produce plans for a common system of defence. (h) A commission to make proposals for a common African citizenship. Africa must unite!
The day after Nkrumah's speech, the 32 independent African nations assembled in Addis Ababa failed to go the whole hog for a strong United States of Africa. Instead they settled for a loose and weak Organisation of African Unity (OAU), whose Charter was signed the same day (25 May 1963) by the following countries: Algeria, Burundi, Cameroon, Central African Republic, Congo (Brazzaville), Congo (Kinshasa), Dahomey, Ethiopia, Gabon, Ghana, Guinea, Côte d'Ivoire, Liberia, Libya, Malagasy, Mali, Mauritania, Morocco, Niger, Nigeria, Rwanda, Senegal, Sierra Leone, Somalia, Sudan, Tanganyika. Tshad [later Chad], Togo, Tunisia, Uganda, UAR [Egypt], and Upper Volta [later Burkina Faso].