"We must unite now or perish" – President Kwame Nkrumah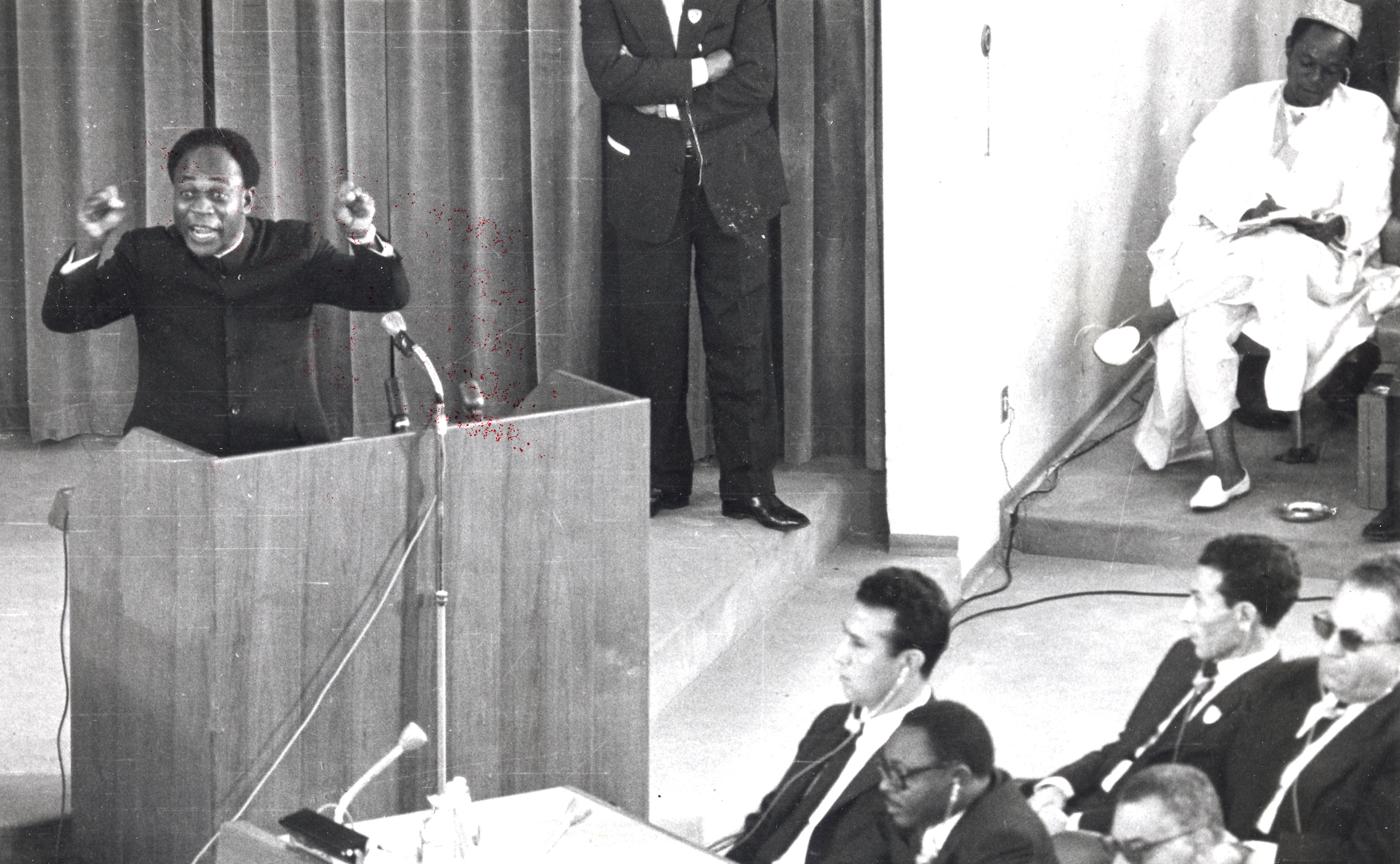 Common citizenship
No independent African state today by itself has a chance to follow an independent course of economic development, and many of us who have tried to do this have been almost ruined or have had to return to the fold of the former colonial rulers. This position will not change unless we have a unified policy working at the continental level. The first step towards our cohesive economy would be a unified monetary zone, with, initially, an agreed common parity for our currencies. To facilitate this arrangement, Ghana would change to a decimal system.
When we find that the arrangement of a fixed common parity is working successfully, there would seem to be no reason for not instituting one common currency and a single bank of issue. With a common currency from one common bank of issue, we should be able to stand erect on our own feet because such an arrangement would be fully backed by the combined national products of the states composing the union. After all, the purchasing power of money depends on productivity and the productive exploitation of the natural, human and physical resources of the nation.
While we are assuring our stability by a common defence system, and our economy is being orientated beyond foreign control by a common currency, monetary zone, and central bank of issue, we can investigate the resources of our continent. We can begin to ascertain whether in reality we are the richest, and not, as we have been taught to believe, the poorest among the continents. We can determine whether we possess the largest potential in hydro-electric power, and whether we can harness it and other sources of energy to our industries. We can proceed to plan our industrialisation on a continental scale, and to build up a common market for nearly 300 million people. Common continental planning for the industrial and agricultural development of Africa is a vital necessity!
So many blessings flow from our unity; so many disasters must follow on our continued disunity. The hour of history which has brought us to this assembly is a revolutionary hour. It is the hour of decision. The masses of the people of Africa are crying for unity. The people of Africa call for the breaking down of the boundaries that keep them apart. They demand an end to the border disputes between sister African states – disputes that arise out of the artificial barriers raised by colonialism. It was colonialism's purpose that divided us.
It was colonialism's purpose that left us with our border irredentism, that rejected our ethnic and cultural fusion. Our people call for unity so that they may not lose their patrimony in the perpetual service of neo-colonialism. In their fervent push for unity, they understand that only its realisation will give full meaning to their freedom and our African independence. It is this popular determination that must move us on to a union of independent African states. In delay lies danger to our well-being, to our very existence as free states.
It has been suggested that our approach to unity should be gradual, that it should go piecemeal. This point of view conceives of Africa as a static entity with "frozen" problems which can be eliminated one by one and when all have been cleared then we can come together and say: "Now all is well, let us now unite."
This view takes no account of the impact of external pressures. Nor does it take cognisance of the danger that delay can deepen our isolations and exclusiveness; that it can enlarge our differences and set us drifting further and further apart into the net of neo-colonialism, so that our union will become nothing but a fading hope, and the great design of Africa's full redemption will be lost, perhaps, forever.