"We must unite now or perish" – President Kwame Nkrumah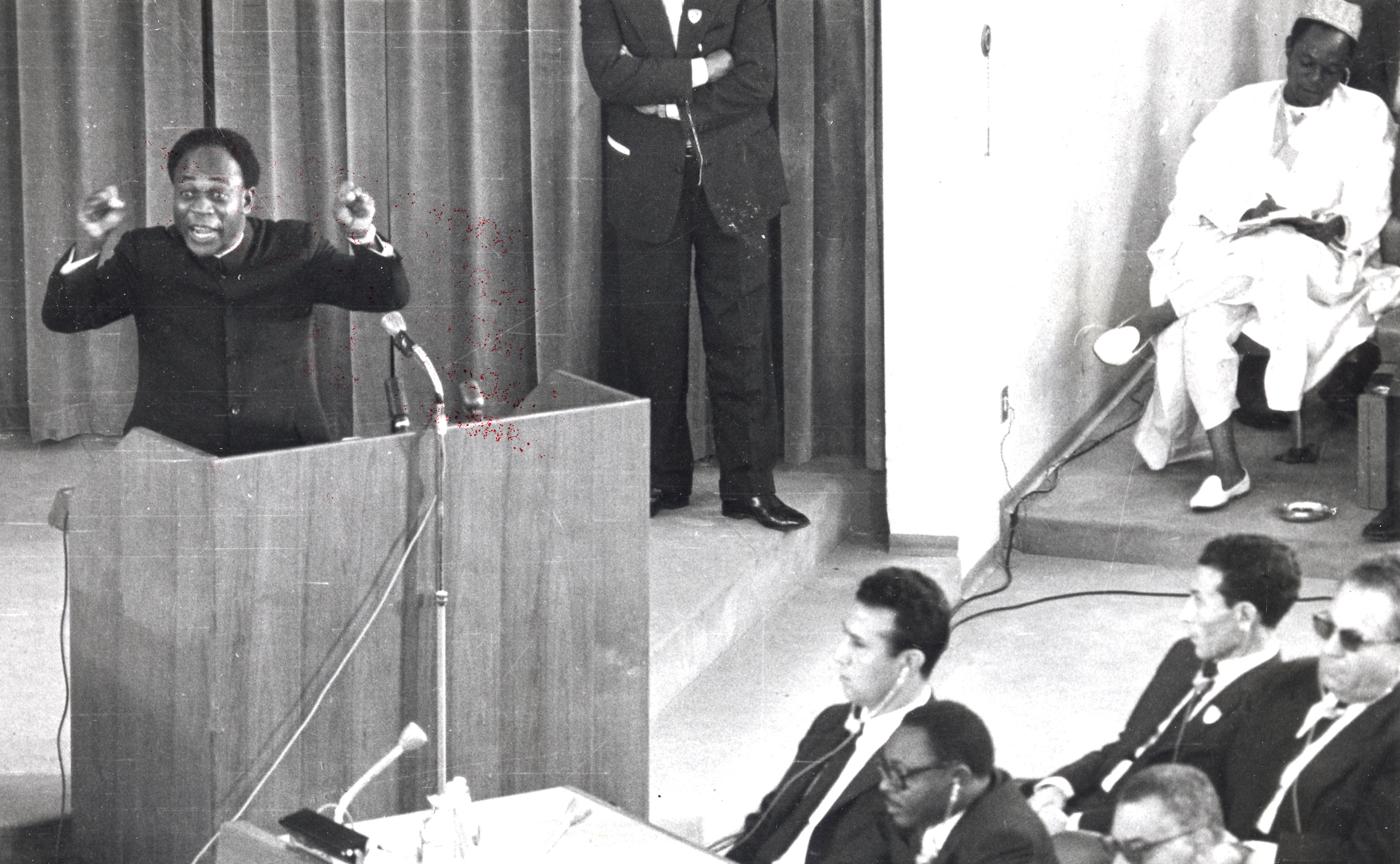 Camels and donkeys no more
It is within the possibility of science and technology to make even the Sahara bloom into a vast field with verdant vegetation for agricultural and industrial development. We shall harness the radio, television, giant printing presses to lift our people from the dark recesses of illiteracy. A decade ago, these would have been visionary words, the fantasies of an idle dreamer. But this is the age in which science has transcended the limits of the material world, and technology has invaded the silences of nature. Time and space have been reduced to unimportant abstractions. Giant machines make roads, clear forests, dig dams, lay out aerodromes; monster trucks and planes distribute goods; huge laboratories manufacture drugs; complicated geological surveys are made; mighty power stations are built; colossal factories erected – all at an incredible speed. The world is no longer moving through bush paths or on camels and donkeys.
We cannot afford to pace our needs, our development, our security, to the gait of camels and donkeys. We cannot afford not to cut down the overgrown bush of outmoded attitudes that obstruct our path to the modern open road of the widest and earliest achievement of economic independence and the raising up of the lives of our people to the highest level.
Even for other continents lacking the resources of Africa, this is the age that sees the end of human want. For us it is a simple matter of grasping with certainty our heritage by using the political might of unity. All we need to do is to develop with our united strength the enormous resources of our continent.
What use to the farmer is education and mechanisation, what use is even capital for development, unless we can ensure for him a fair price and a ready market? What has the peasant, worker and farmer gained from political independence, unless we can ensure for him a fair return for his labour and a higher standard of living? Unless we can establish great industrial complexes in Africa, what have the urban worker, and those peasants on overcrowded land gained from political independence? If they are to remain unemployed or in unskilled occupation, what will avail them the better facilities for education, technical training, energy, and ambition which independence enables us to provide?
There is hardly any African state without a frontier problem with its adjacent neighbours. It would be futile for me to enumerate them because they are already so familiar to us all.
But let me suggest that this fatal relic of colonialism will drive us to war against one another as our unplanned and uncoordinated industrial development expands, just as happened in Europe. Unless we succeed in arresting the danger through mutual understanding on fundamental issues and through African unity, which will render existing boundaries obsolete and superfluous, we shall have fought in vain for independence. Only African unity can heal this festering sore of boundary disputes between our various states. The remedy for these ills is ready in our hands. It stares us in the face at every customs barrier, it shouts to us from every African heart.
By creating a true political union of all the independent states of Africa, with executive powers for political direction, we can tackle hopefully every emergency and every complexity. This is because we have emerged in the age of science and technology in which poverty, ignorance, and disease are no longer the masters, but the retreating foes of mankind. Above all, we have emerged at a time when a continental land mass like Africa with its population approaching 300 million is necessary to the economic capitalisation and profitability of modern productive methods and techniques. Not one of us working singly and individually can successfully attain the fullest development. Certainly, it will not be possible to give adequate assistance to sister states trying, against the most difficult conditions, to improve their economic and social structures. Only a united Africa functioning under a union government can forcefully mobilise the material and moral resources of our separate countries and apply them efficiently and energetically to bring a rapid change in the conditions of our people.