"We must unite now or perish" – President Kwame Nkrumah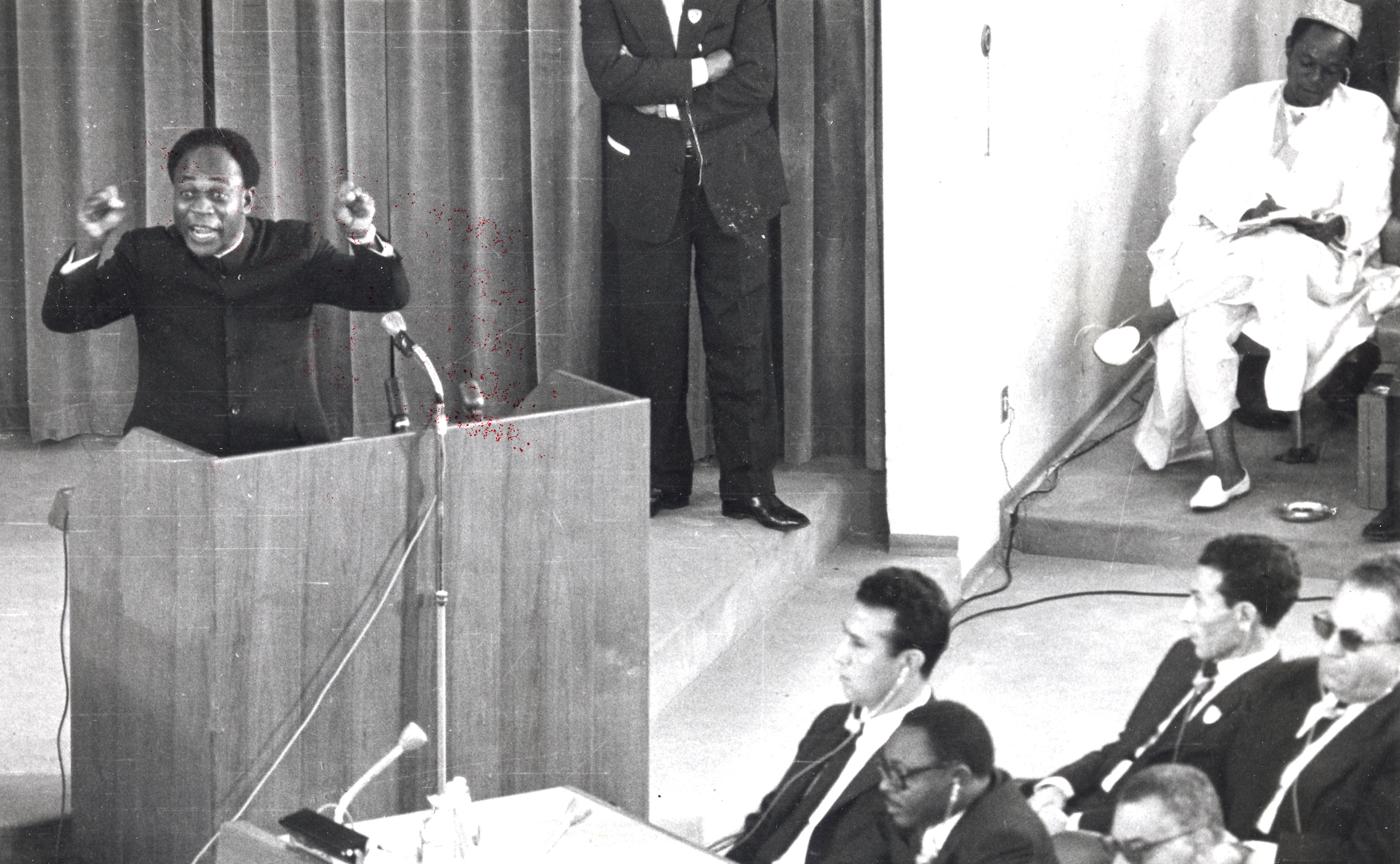 Instability and frustration
In independent Africa, we are already reexperiencing the instability and frustration which existed under colonial rule. We are fast learning that political independence is not enough to rid us of the consequences of colonial rule.
The movement of the masses of the people of Africa for freedom from that kind of rule was not only a revolt against the conditions which it imposed. Our people supported us in our fight for independence because they believed that African governments could cure the ills of the past in a way which could never be accomplished under colonial rule. If, therefore, now that we are independent we allow the same conditions to exist that existed in colonial days, all the resentment which overthrew colonialism will be mobilised against us.
The resources are there. It is for us to marshal them in the active service of our people. Unless we do this by our concerted efforts, within the framework of our combined planning, we shall not progress at the tempo demanded by today's events and the mood of our people. The symptoms of our troubles will grow, and the troubles themselves become chronic. It will then be too late for pan-African unity to secure for us stability and tranquillity in our labours for a continent of social justice and material well-being.
Our continent certainly exceeds all the others in potential hydro-electric power, which some experts assess as 42% of the world's total. What need is there for us to remain hewers of wood and drawers of water for the industrialised areas of the world? It is said, of course, that we have no capital, no industrial skill, no communications, and no internal markets, and that we cannot even agree among ourselves how best to utilise our resources for our own social needs. Yet all stock exchanges in the world are preoccupied with Africa's gold, diamonds, uranium, platinum, copper and iron ore. Our capital flows out in streams to irrigate the whole system of Western economy. Fifty-two per cent of the gold in Fort Knox at this moment, where the USA stores its bullion, is believed to have originated from our shores.
Africa provides more than 60% of the world's gold. A great deal of the uranium for nuclear power, of copper for electronics, of titanium for supersonic projectiles, of iron and steel for heavy industries, of other minerals and raw materials for lighter industries – the basic economic might of the foreign powers – comes from our continent.
Experts have estimated that the Congo Basin alone can produce enough food crops to satisfy the requirements of nearly half the population of the whole world, and here we sit talking about gradualism, talking about step by step. Are you afraid to take the bull by the horns?
For centuries, Africa has been the milch cow of the Western world. Was it not our continent that helped the Western world to build up its accumulated wealth? We have the resources. It was colonialism in the first place that prevented us from accumulating the effective capital; but we ourselves have failed to make full use of our power in independence to mobilise our resources for the most effective take-off into thorough-going economic and social development.
We have been too busy nursing our separate states to understand fully the basic need of our union, rooted in common purpose, common planning and common endeavour. A union that ignores these fundamental necessities will be but a sham. It is only by uniting our productive capacity and the resultant production that we can amass capital. And once we start, the momentum will increase. With capital controlled by our own banks, harnessed to our own true industrial and agricultural development, we shall make our advance.
We shall accumulate machinery and establish steel works, iron foundries and factories; we shall link the various states of our continent with communications by land, sea, and air. We shall cable from one place to another, phone from one place to the other and astound the world with our hydro-electric power; we shall drain marshes and swamps, clear infested areas, feed the under-nourished, and rid our people of parasites and disease.