"For the future of Madagascar, I am counting on the youth"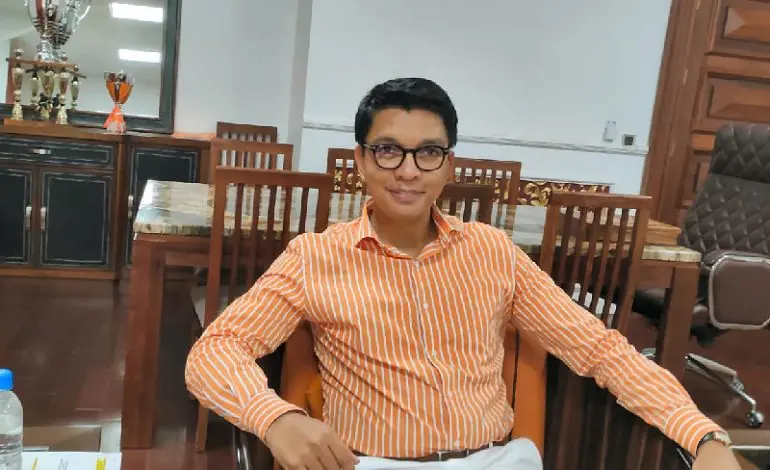 As he campaigns for re-election in November, President Andry Rajoelina of Madagascar does not try to conceal his country's difficulties. After a term devoted to infrastructure, he wants to accelerate industrialisation, boost agriculture, and encourage the private sector and human capital. Interview by Hichem Ben Yaïche.
In what state of mind are you approaching the presidential election?
Madagascar has fallen behind in terms of development. The growth long awaited by the population has not materialised. This is why I am running for a second term. I have done everything to catch up on growth through the construction of the infrastructure that the population needs.
I'll just give a few examples. Many children – not just in Madagascar, but in Africa in general – walk for several hours to school. In Madagascar, we face this reality. With my government, I built 4,198 classrooms to educate more than 2,200 schoolchildren and students.
This is a record, not just for Madagascar but for Africa. Imagine a large country like Madagascar, with 25m inhabitants, from 1891 until 2019, we only have 18 referral hospitals. During my mandate I built 28 hospitals with operating theatres, maternity wards, oxygen generators, etc.
Certainly, the country has come a long way, but has such needs… What means does it have to meet them?
Precisely for this reason, during my first mandate, I tried to build and build. Since independence we have had only 42 courts in our 119 districts. Even to obtain a legal document such as a criminal record extract, people were obliged to travel, even cross the sea, as in Sainte-Marie for example. We have built courts and hospitals to facilitate and support the daily needs of the population.
I also built the first motorway in Madagascar. Today, it takes 10-12 hours to travel the 360km from Antananarivo to the large port of Tamatave. With the new road, the journey will only take 2 hours 30 minutes. It is the development of these projects that I would like to continue. In the south of my country, we still face famine from the drought which is hitting this region. We have built a 97km pipeline to supply water to more than 60 municipalities.
To be frank, poverty certainly persists, but it is for this reason that during the five years of my second mandate – I am confident of winning these elections – I will above all take care of the population to achieve the self-sufficiency in food, focus on the weakest and support young people to get them out of unemployment.
You want to be the embodiment of a "social president" who improves the human development of his country. How are you going to go about it given the scale of the challenges?
By directing our priorities. Until now, we have worked on improving infrastructure; now we will focus on human capital, promote training, implement industrialisation programmes, decide on incentives. The reforms that we have undertaken demonstrate – as confirmed by the World Bank– that this action could lead Madagascar to achieve 4 points more growth.
Once again, how do you plan to upgrade the country and lift it out of extreme poverty?
The idea is that every citizen should be useful to their family and to their country. To do this, as leader, the programme that I will put into action is the industrialisation of the country to create jobs. There will be incentives…
What will the industrialisation you mention look like, in a country where 80% of households live from agriculture?
We are in the process of structuring everything designated as "green", we are carrying out operations regarding the granting of land to farmers. We have distributed up to 2m land certificates to date. This will facilitate access to land. I would cite the CAJEF (African Council of Young French-speaking Entrepreneurs) programme that we developed with the World Bank; it supports farmers and includes incentive measures. It's a milestone: everything that the Malagasy people produce should be processed in Madagascar itself!
We see your ambition for the country. Can you give us other concrete examples?
You know, Madagascar is a big country. But our potential, apart from natural resources, is above all human capital. The population is young; it needs a leader who charts the path and sets the milestones for development. More and more people are adhering to my vision and my programme. They come to meet every day: 5,000 people per day, from 3 am. We have never seen so much support and membership in the country. They know that I am patriotic and I love my country. The people have confidence in me and support my social project.
Certainly, but among the 13 candidates in the running, 11 denounce unequal treatment by the public authorities and excesses of all kinds. We also observe a fairly tense atmosphere which risks tipping into violence. How do you react to all this?
The Malagasy population has gained a lot in political maturity. Those who are candidates today against me, facing me, are former presidents who have already led this country and shown their limits in the management of public affairs. Among them, there is an outgoing candidate in 2018, who only received 8% of the votes, the others collected 1%. It is for all these reasons that they are manoeuvering so that the elections do not take place. But I strongly condemn the delaying tactics of the opposition, especially the candidates.
Yet, they criticise the public authorities for using means to prevent them from carrying out their electoral campaigns and organizing themselves well?
We don't stop them. They have the right today to campaign but they do not campaign. They want to take to the streets to sow trouble, undermine the electoral process… They are afraid of the verdict of the ballot boxes.
You have often mentioned stability as a key factor for governing. Today we see in little distance between democracy and autocracy in the world. Where do you place the bar in your approach to stability?
We cannot develop a country without peace, stability and above all continuity. Today, the other candidates are blocking the development of Madagascar. They are the enemies of the country. Madagascar no longer needs a new crisis. The country needs someone who can bring people and regions together, unite the armed forces, someone who has a patriotic vision and who is ready to do everything to recover and develop this country. From now on, there is only one man who the people know has the capabilities, talent and experience, especially in terms of crisis management and management of this country. He is the one the population will vote for during the elections.
An electoral crisis is emerging. We observe the rise of tensions.
We have never seen in the world former heads of state who are running for presidential elections who illegally bring people into the streets and who do not participate in the electoral campaign. They have permission to campaign in stadiums. But they persist in wanting to take to the streets because they can't find many people to follow them. This is what I strongly condemn. Actions that confiscate democracy and the voice of the majority to express themselves through elections.
How do you plan to conciliate the country?
Democracy is the voice of the majority. Democracy is when the majority speaks, it's when the majority decides. And as they say, the voice of the people is the voice of God. And I trust the choice of the people.
Let's return to economic questions. On the path to emergence, how can Madagascar enter a phase of industrialisation?
Madagascar must become the rice granary of the Indian Ocean and Africa. First of all, we will support farmers, strengthen the training of young people so that each citizen becomes useful and creates employment, we will build, build and provide decent housing to the majority of populations who need it.
How can you mobilise donors to finance these programmes and projects without losing control of your choices?
What has changed a lot with the World Bank in recent years is that we, that is to say the State, sets the program, the vision. For its part, the World Bank supports everything that is a priority in relation to our choices. For example, in infrastructure projects, the WB has an envelope. We suggest opening up agricultural areas. This is why it financed the RN44 highway. Today, the price of transporting foodstuffs has decreased and this has allowed farmers to transport their produce.
You have often criticised donors for meddling in the country's internal affairs. Does dialogue between you and your partners normally work?
Regarding the management of the country, we have a programme – the Madagascar Emergence Plan. It is structured around 13 points. Our teams are in the finalisation and continuity phases. With the international community, there are sometimes misunderstandings about the assessment of the national political situation. And here, we strongly call for great restraint and respect for national sovereignty.
How do you plan to develop the entrepreneurial spirit in the country and provide the means for greater economic dynamism?
I mentioned the incentive measures taken to encourage domestic and private sector invstors in order to facilitate their investments and support the economic development of Madagascar.
In terms of diplomacy, you have shown your closeness to Africa, by travelling there, much more than your predecessors. How do you plan to strengthen relationships to create synergies?
The African continent should no longer be seen as a problem continent. It should be seen as a continent of solutions. It is for this reason that we must continue to strengthen exchanges, cooperation and above all the unity of all countries to be able to have strength compared to other countries.
However, the continent is affected by crises, like in the Sahel… Does this worry you?
What is currently worrying about the situation in Africa is the instability that reigns through military coups. I spoke to officials at the African Union and the United Nations about it. I think we need to take steps to secure democracy or the people's elected representatives. I proposed that the African Union Commission could take a decision condemning the military who take power by force. These soldiers should be brought before the International Criminal Court. Today, it is inconceivable that those who carried out the military coups should make speeches at the United Nations, acclaimed by their populations, reinforcing instability and encouraging other countries to do the same thing. This is a problem to be resolved.
Coups can also mask deeper structural problems. In some countries, there are specific reasons for the military to take power.
You know, we never solve problems by force; democracy must reign.
For you, Madagascar must take account of the global political scene. We see that the war in Ukraine has fractured the world, sharpened geopolitical rivalries between the United States, Russia and China in particular. How can you avoid being drawn into this game of rivalries, which brings tensions and conflicts?
Regarding the war in Ukraine, our position has always been clear. A war always ends with dialogue, around a table. We have always urged stakeholders to find a solution. We did not seek this war. Our country, Madagascar, is in line with the non-aligned nations in this conflict. We are neither for nor against. On the other hand, we condemn the use of force against civilians. We condemn the use of force, but Madagascar remains non-aligned.
Africa has become a field of rivalries between the great powers. Do you fear this development?
This worries us, of course.
Between Madagascar and France, have things calmed down regarding your claims on the Scattered Islands? Have you found common ground?
In this matter, our position is that already adopted by the United Nations. These islands belong to Madagascar. That said, the sovereignty of these islands also poses a problem. This is why we created a joint commission to be able to find a solution. So yes, we are in the process of finding a lasting solution regarding the Scattered Islands.
Does Madagascar's geostrategic position lead certain countries to ask you for the establishment of military bases?
No, and that is out of the question. It is not at all our objective to create military bases on our territory. What interests us today is economic development and not military development or the creation of military bases.
Interview conducted in Madagascar by Hichem Ben Yaïche, October 20, 2023.