The Great Oliver Mtukudzi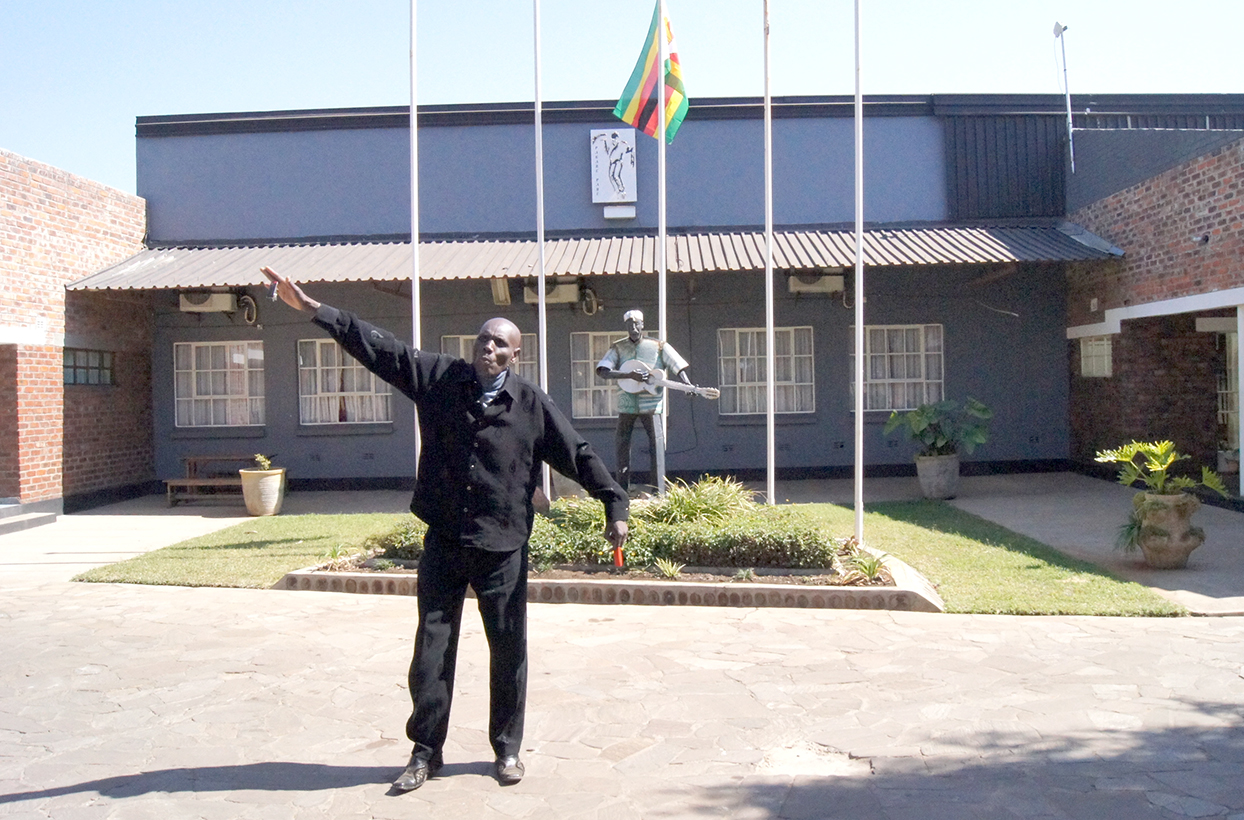 When it comes to music, no one beats Oliver Mtukudzi in Zimbabwe. He is not only a household name, he is a philanthropist to boot. And he wants his arts centre in Norton to inspire and develop future stars, reports Ish Mafundikwa.
Oliver Mtukudzi is easily Zimbabwe's most successful recording and performing artiste. But if his parents had their way, he would have been anything but a musician. When he was growing up in the then Rhodesia, musicians hardly made any money and parents discouraged their children from aspiring to be musicians, who were looked down upon as shiftless and good-for-nothing.
No wonder the parents of the man now affectionately known as Tuku by his fans, smashed his first guitar, which, incidentally was home-made. Mtukudzi now says: "The worst part for me is that both my parents were musicians, they sang in choirs; my father even sang with some bands."
But as no-one can put a good man down, Tuku managed to buy his second guitar from a second-hand shop and kept it at the next door neighbour's house, where he taught himself to play.
His debut single in 1975, Stop Before Go, broke new ground: as he says, "I wanted people to hear something they never heard before, something new". His second release, Dzandimomotera with The Wagon Wheels, a band which also featured another titan of Zimbabwean music, Thomas Mapfumo, was a massive hit. Tuku's parents finally approved of his career choice when he brought home his first royalty cheque of Z$842 – not a small fortune then – from its sales.
Almost four decades and 60 albums later (with three awaiting release),
Mtukudzi, now 59, has proved that music can be a profitable and respectable career just like any other. He is now well-off, a dedicated family man, and a respected member of the community.
He has won numerous awards, is a UNICEF ambassador, and recently received the Italian government's Cavalier of the Order of Merit award in recognition of his work as an international musician.
But despite all these accolades, Tuku bemoans the fact that musicians and their careers are still not given the respect they deserve. "I don't think things have changed much from the time I was growing up," he complains. "It's true some parents encourage their kids to play instruments and even arrange for them to have lessons. However, it is taken as something to do but not to be taken seriously. In most cases the kids do not have a say, they just do what their parents expect."
His personal struggles as an aspiring musician and the negative perceptions against musicians influenced his decision to build an arts centre in his hometown of Norton, some 40 km west of the capital, Harare. He calls it Pakare Paye (which in Shona means "That Place"). He sees it as a haven for anybody – there is no age limit – to come and express themselves artistically.
"I have always wanted to do this," Tuku explains, "but the knowledge that parents don't take the arts in general and music in particular seriously put me under added pressure to do something special."
In 2003, Tuku put up posters inviting whoever felt they wanted to express themselves artistically to come to a place where his wife, Daisy, was running a concrete block moulding business. He expected up to 15 people, but 17 groups of people, not individuals, turned up.
"I was so amazed, and all of them were from Norton!" he says. And instead of the two or so hours he planned to spend with them, he spent the whole day. The realisation that there were so many people who needed a place where they could give their dreams expression led to the building of the first phase of the Pakare Paye centre, which comprises offices, an outdoor stage, a practice area, a shop, and a restaurant.
Tuku is quick to add that the centre is not a school but rather, a place where those who want to pursue their chosen art form, to whatever level, can hone their skills.
But first and most importantly, he says, "youngsters must be taught traditional values here such as respecting themselves, their elders, and to be there for each other".
They are also instilled with the pride of being Zimbabwean, and discouraged from aping other cultures. "There is no culture better than another; we are just different," Tuku insists.
The centre boasts a variety of instruments which are used for free by whoever comes. "I don't teach these youngsters, I am just a facilitator and I actually learn from them, of course if I see them doing something I feel needs correcting, I correct them, but I prefer not to interfere with their creative process." Tuku says.
However, Tuku has enlisted the services of volunteers who put the kids through their paces in disciplines that require a more hands-on approach, such as drama, dance, poetry, and film. A number of short films have been produced at the centre and screened on local television.
There is no real structure at the centre, and you can find people practising whatever instrument they choose to play all over the grounds, which have grown as Tuku has bought an adjacent property on which a timber factory stood.
The ex-timber factory has been turned into a concert venue with a capacity of about 1,000 people; a bar, a conference centre, a recording studio, and lodges.
Tuku downplays the notion that Pakare Paye is a money-making venture. "Everything is integrated, we realised we needed a place for artists to stay overnight instead of driving back to Harare after a gig, and also a place where concert-goers can stay or even spend the weekend."
Tuku also intends to establish a community radio station where youngsters will run the show. "We'll get a couple of experienced radio people to show them the ropes, but otherwise it will be up to the kids to come up with a different kind of radio," he says.
Pakare Paye has already produced musicians who have made waves in Zimbabwe, such as Munyaradzi Mataruse, Poda Muriwa, and others who have joined bands including Tuku's own Black Spirits.
But Pakare Paye's most famous alumnus is Tuku's son, Sam, who died in a car accident on 15 March 2010, two weeks before his 22nd birthday. Sam announced his arrival on the music scene with the release of his debut album, Rume Rimwe, which was very well received nationally. His follow-up, Cheziya, was released posthumously.
Tuku recalls wistfully: "Sam was lucky because he grew up in a household where it is okay to be a musician, but at first he never showed any interest in music as a kid."
The first time Tuku knew his son was into music was when he was invited to a primary school concert where Sam was billed to perform. "I did not even know what he was going to play," he says.
Tuku was surprised to see his son on guitar and playing three of his own compositions. "What I did not know is that Sam taught himself to play on my guitar during my absence, and the fact that he played his own compositions at the school concert blew me away as that is not easy!" From that day, Sam's fate as a musician was sealed.
Having set up Pakare Paye, one would think Tuku is satisfied. Far from it. "This is just a beginning," he says. "The number of people who come here is limited by the fact that they don't have money for transport. So I hope others can establish similar centres countrywide so that all talented people can get a break."