Nairobi Beckons Again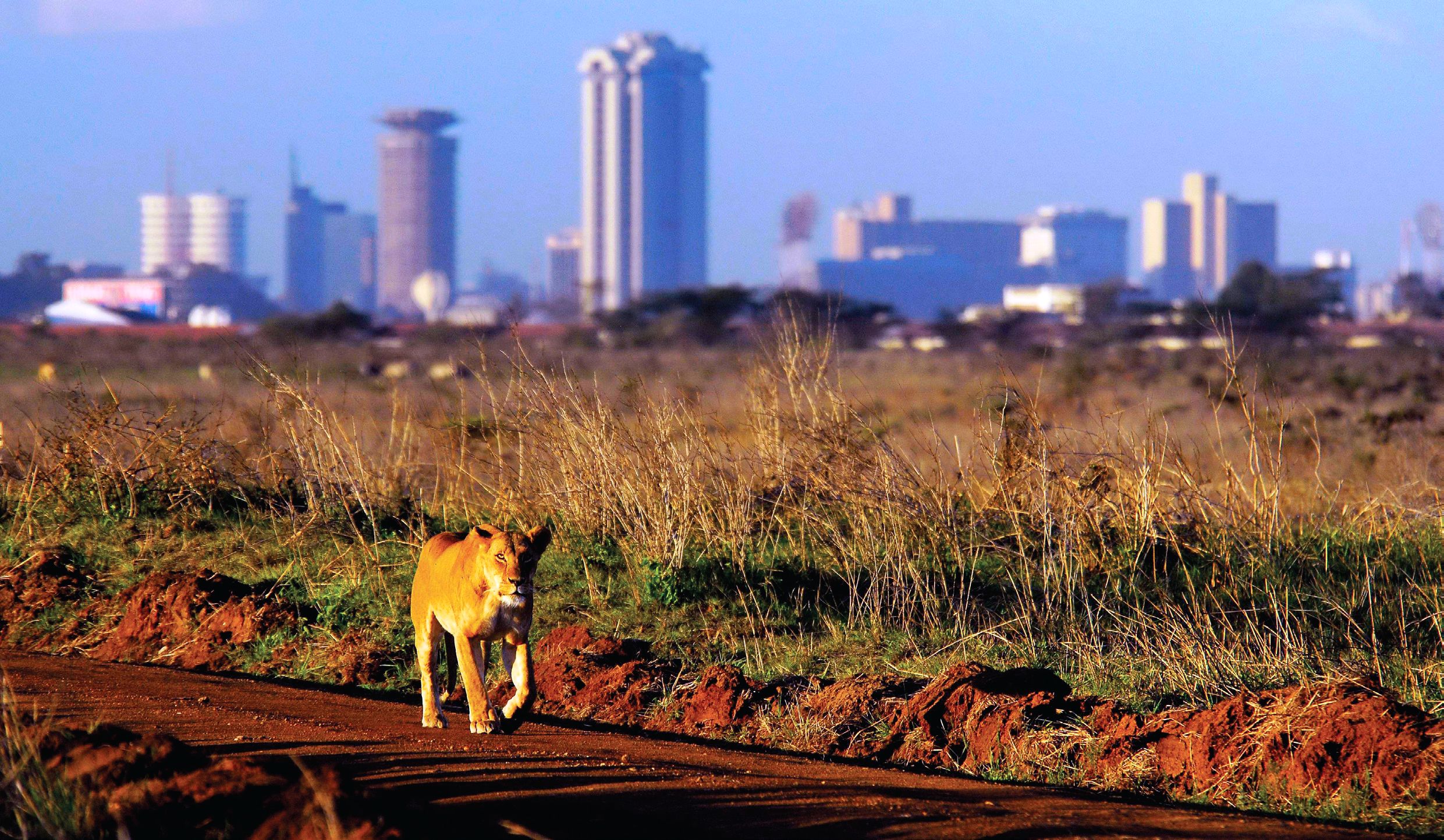 This year's CNN African Journalist of the Year Award was won by an enterprising Kenyan TV journalist, Angelo Kinyua. His piece was superb, but what wouldn't I have given for an investigative piece sketching out how one small African country needs 80-plus "ministers", "ministers of state", "deputy ministers" and "regional ministers" in order to "develop", while actually spending 60% of its national revenue on "recurrent expenditure" (including cars and staff for the over 80 "ministers").
I hadn't been to Nairobi for over 10 years when I arrived there finally to take part in the ceremony honouring the winner of the CNN/Multichoice African Journalist of the year 2005 competition.
Before leaving, I had been cooped up, for a whole working  week, in the Turner building  in Central London, that houses CNN International, reading scripts, watching videos or listening  to radio presentations – all in  the company of  six other judges drawn from across Africa. Our chairman was  Joel Kibazo, director of communications and public affairs at the Commonwealth Secretariat, and the other judges were  Dr Doyinsola Abiola, managing director, Concord Press of Nigeria; Jeff Koinange, CNN's Africa correspondent, Arlindo Lopes, chairman and chief executive officer of Mozambique Television (TVM), Shasha Ndimbie, freelance editor, consultant and TV news anchor for the Cameroon Radio Television Corporation (CRTV), and Onkgopotse J. J. Tabane, vice president, communications, government liaison, and customer services, South African Airways.
It was a gruelling time. We were supposed to work on a "short list", but found that the list was longer than it was short!  As could be expected, debating the quality of the entries was tough – no one's favourite story or presentation could be every other person's choice as well. Could we compromise? We all made a case – as eloquent as we could – for the entries we had selected as prize-winners. Fortunately, the prizes were quite a lot, so each of us more or less won something for our chosen entrants. I must say that all the judges, whilst sticking to their points of view with iron determination, were very courteous and considerate towards one another, and by the time the judging was done, we had begun to feel like one family.
As in all families, little "axis" groups had formed within the panel, whose members lent subtle support to each other. And as in all family discussions, we argued, cajoled, scorned, exulted, and became sullen if and when our wills were thwarted. And then – voted. By secret ballot. Yes, the democratic method was the only way to settle matters. And when it was done, we all closed ranks and bowed to the collective will.
But choosing had not been easy. Take the winning entry for example. It was a TV report on a dying cancer patient, submitted by Angelo Kinyua of Medeva, for KBC, Kenya. It opened with the cancer patient telling viewers how he had noticed a little growth on his finger, had done nothing about it, and seen it deteriorate to eat away two of his fingers. By the time he sought treatment, the cancer had spread to the rest of his body.
The camera followed him – and his family – as he  was  given the best medical treatment available in Kenya. Viewers saw his hopes, and those of his family, rise and fall. There were intimate moments between him and his doctors, and his young baby and his wife. These were rather tastefully incorporated into the film, and we got to know them quite well. So, by the time the programme revealed that he had not survived the cancer, his death felt like a personal loss to each of us.
The impact of what we had seen was great enough, but then, the reporter had the excellent idea of doing a piece to camera, straight from the heart, telling viewers that the reason why the dead man had co-operated with him in making the film was that he wanted everyone to realise the risks involved in ignoring signs given by our bodies that all was not well.
"He wanted his death to be used to save other people's lives," the reporter declaimed. Almost everyone who saw the film felt like crying. But selecting it as the winning entry was not easy. How could it not win, given the fact that someone else's death, if presented to us cleverly enough, would make us think of our own? That is, no doubt, what made one hard-boiled journalist on the panel say: "If you are allowed full access into the life of a terminally ill patient and you are unable to make a programme that will make everybody cry, then you ought not to be a journalist at all in the first place!" 
This judge wanted the prize to go, instead, to an exposé of how the Mau Forest in Kenya – whose waters serve most of East Africa's fantastic wildlife reserves as well as the humans who are the true custodians of the fauna and flora of their habitat – was being deforested by charcoal-makers and loggers to an extent that it was threatening the future of the entire area – forest, fantastic ecological treasures and all.
"When I was growing up, my village had two rivers," this judge revealed. "Today, we drink water out of boreholes – one river has dried up and the other won't last long. And it was environmental degradation that did it. This story is therefore of great relevance to the future of the whole of Africa and indeed, the entire rainforest belt of the planet. And this story uses TVF to bring it home to us."
But despite the judge's advocacy, the voting went in favour of the cancer story. After the judging had taken place, I had to concede to myself that the exercise had been worthwhile. For what it had done was to demonstrate to us, the current preoccupations of the African journalist, and the limitations, if any, of his or her attempts to communicate to others, the ideas arising from those preoccupations.
As it happened, the winner for 2005, Angelo Kinyua, and his mother were sitting at my table during the awards ceremony, which took place at the Safari Park Hotel, in Nairobi. When I observed the sheer ecstasy that enveloped both of them when Kinyua's name was announced, I became even more convinced that the judges and the organisers had not wasted their time in awarding the prize. What will Kinyua be inspired to do next? What will others who witnessed his good fortune ($5,000 plus an enviable trip to CNN's headquarters in Atlanta, Georgia) try to do to emulate his effort?
A very sombre note occurred in the awards ceremony when the widow of  a courageous Gambian journalist murdered in Banjul by killers suspected to be connected to the government, was called to receive a posthumous award in  honour of her late husband. Deyda Heydara, editor of The Post newspaper of Banjul, was shot and killed one dark night in January 2005, by unknown assassins. He had been campaigning vigorously against a new law by which The Gambian government wanted to control the media. The award to him brought it home to all of us that, though journalists might be honoured now and then, their profession remains a dangerous calling – especially in Africa, where charlatans calling themselves "Redeemers", have a way of seizing control of our nations' coffers and fear only one thing – being exposed in the media by brave men like Heydara.
I found Nairobi city a little disappointing. The Arap Moi years have taken their toll – many of the roads are full of potholes; the shops do not look as attractive as before, and the quality of the cars and matatus [minibuses] on the roads is nothing to write home about. But it still has some great restaurants: my favourite was the Carnivore where we were given as much meat as we could eat. The fare included crocodile and ostrich. I restricted myself to beef. It came grilled and succulent; it made me remember the first time I ever went to Nairobi. I was with a South African guy who had had too much to drink but wouldn't stop eating his meat because it tasted so good. Each time he nodded off to sleep and woke up again, his first task was to continue masticating from where he had left off. He somehow finished his plate.
I left Kenya feeling buoyed up by the knowledge that a crop of young and very ambitious journalists are being bred in Africa. I must admit, however, that I felt  a little sense of anti-climax. Why had there not been an entry using satire to expose the idiocy of  modern African rulers who keep marrying young ladies and presenting them with palaces and BMW cars, whilst leaving their countries to rot in poverty and be ravaged by an HIV/Aids epidemic, which they have no money to combat? And what wouldn't I have given for an investigative piece sketching out how one small country needs 80-plus "ministers", "ministers of state", "deputy ministers" and "regional ministers", in order to "develop" while actually spending 60% of its national revenue on "recurrent expenditure" (including cars and staff for the over 80 "ministers").
Ah well, there is always next year's competition!