Oliver Andrews: Tempered by ice and fire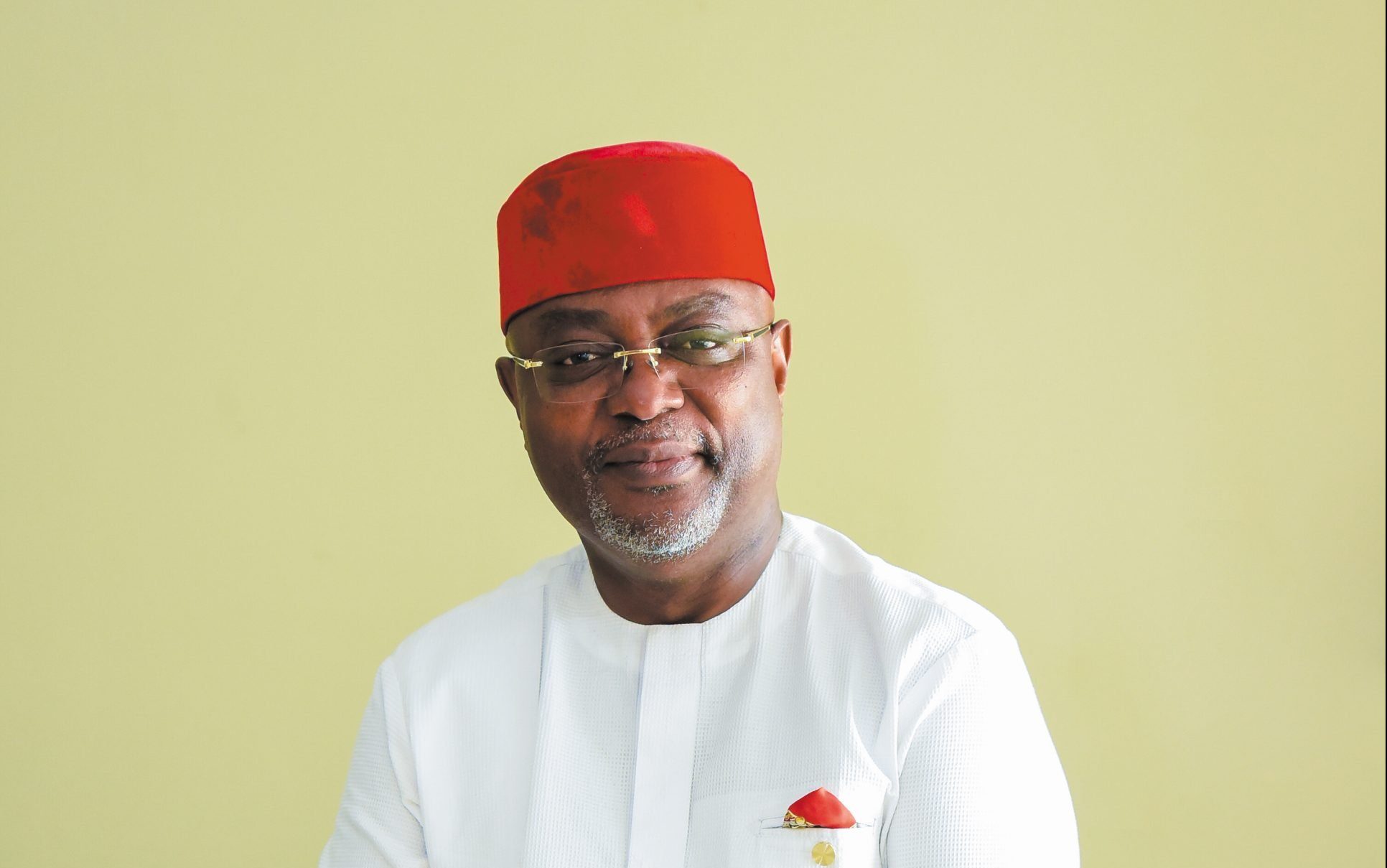 As Oliver Andrews, one of Africa's most iconic business leaders, passes on the baton at the Africa Finance Corporation (AFC), New African Editor Anver Versi seeks out the person behind the persona.
Oliver Andrews, Executive Director and Chief Investment Officer at the Africa Finance Corporation (AFC), is retiring at the end of the year. He has successfully directed, developed and invested in numerous infrastructure deals in Africa, with a total value of over $40bn, and overseen some of the most significant projects on the continent. He is a Fellow of the Chartered Institute of Logistics and Transport, UK; the Royal Society of Arts, UK; and a Member of the Chartered Institute of Marketing. He is also the first Chairman of Africa Infrastructure Development Association (AfIDA).
Over the years, I have had the privilege of meeting with and interviewing Oliver Andrews several times. He always came across as a suave gentleman with a touch of the debonair in his choice of attire. All the interviews were either for African Business or African Banker magazines, both of which I edited at the time.
Our discussions were centred on various aspects of African infrastructure – the sector that the Africa Finance Corporation (AFC) is most concerned with. We talked about a diverse variety of projects – building bridges and power generation stations, ports, roads, mines. We discussed all the complex stages that such large-scale projects go through – between the ideas first getting the green light to completion, usually many years down the line.
Andrews was clearly a master of his world. He had the reputation of being the deal-maker 'par excellence', bringing together the money people with the project leaders, the engineers and designers, the construction folk, the estate agents, the trade unions, the media and the government to buy into the projects and sing from the same page.
Someone once described the process as putting lions and tigers and sheep and goats together in a room and hoping they will be sweet with each other. Andrews had a habit of making this happen, hence his awesome reputation in the industry.
Sometimes he would whisper a little mischievously that this project or the other "has survived three Presidents and one coup d'état – but it's still an ongoing project!"
At times he could lose me in the rarefied atmosphere of high project finance – the interest rate calculations, the break-even points, the covenants, the debt service reserve accounts, the structured vehicles – but seeing my distress, he would come down to my level and explain what it all meant so that I could convey it accurately to my readers.
However, for some reason, I always had an inkling that under the financier polish was a man who in a different time and place would have been called a Buccaneer-Prince, an adventurous soul who would set sail and let the wind blow him to seek his fortune in faraway and strange places.
So when we sat down to Zoom over the Covid-generated distancing needed for this interview, on the occasion of  his retirement from the AFC, I wondered if my hunch had been correct or if I had tried to read too much into someone who was first and last a high-stakes project developer and financier. I asked him to talk about his background.
This time, relaxed and at home, he was wearing a stylishly simple shirt without a tie or jacket in sight. The next hour flew by as he narrated his fascinating story.
Three years of hell
Oliver Andrews was born in Bathurst, now Banjul, the capital of Gambia to a high-ranking civil service father and an equally high-ranking teacher mother.
In his early teens, he suffered from osteomyelitis, an infection in the bone of his leg. For three years as the condition got worse, he was bedridden. He was in and out of hospitals in the Gambia and Dakar, and was finally sent to a missionary hospital in Copenhagen, Denmark where conditions such as his could be treated. The treatment was successful and once he was able to walk, he was impatient to make up for lost time. Perhaps the years he had spent with his limited mobility had fired up his imagination and widened his horizons much further than what his small nation could contain.
While still in his teens, he left for the UK, hoping to become an agricultural scientist. But, "believe it nor not, I decided I'd study to become an officer in the British Merchant Navy, instead," he says.
Sure enough, he qualified in the naval city of Hull as a Maritime Radio and Electronic Communications Officer in the British Merchant Navy.
In 1975, with the ink on his certificate still wet, he landed his first job – to go on a three-week commercial fishing trip in the Arctic circle! He took a train from Hull to Aberdeen in Scotland and joined a crew of hard-boiled Scottish fishermen.
They did not take too kindly to the idea of this still wet-behind-the-ears African youth as part of the crew, especially as he was an officer while they were only ordinary seamen. "Only the captain, the First Mate and the Chief Engineer were officers – everybody else was a deck hand – so you can understand their hostility".
"That was three weeks of sheer hell," Oliver recalls. "There was a lot of fear. I'd never seen such high seas. Our little craft seemed to be in the middle of a valley with mountains of raging sea water all around."
On New Year's Eve 1976, the ship docked at Hammerfest, the most northerly town in Norway and it was below freezing. "I was sent out in the middle of the night; I think apparently because I was the darkest person in the room and I had to 'bring the New Year in with me'," he recalls.
These were his first encounters with racial discrimination but he did not allow his spirits to flag. In fact, he says: "Honestly, after those three weeks, I came to be an admirer of the fishermen in the North Sea and how hard their lives were.
"These were men who every day put their lives on the line. Although I was an Officer and I was responsible for the radar and radio communications. This was long before we had all these electronic gizmos and the radio was our only lifeline to the outside world.
"I remember, at that tender age, being asked to go up to check if the batteries were ok, after a week at sea. In those days, you had to top the batteries up to make sure they worked. It was a huge responsibility."
Although the three weeks on the fishing vessel had been a shock to the system, he says he 'found his sea-legs' and a taste for life on the ocean wave.
He went to Plymouth, another city with a deep maritime history, on Britain's south-western coast and obtained more qualifications, excelling as the first amongst equals. He got his electronic engineering 'tickets' to get work on larger ocean-going vessels in 1976.
"The next seven years," he says, "were some of the most joyous of my life. I got paid very good money and travelled the world. I made some very good friends all over the globe in nearly every country with a seaport that we visited. This was great education in cultural differences, and working with people in confined spaces teaches you a lot of things."
This period, he says, also opened his eyes to many aspects of humanity, both good and bad. "There were many hairy moments," he recalls. His best friend was a massive Swede who stood by him if they mistakenly entered an all-White bar in certain cities like New Orleans in the US. "I got to know people but I also learned  how to survive in hostile atmospheres."
A fruitful period of learning
Having seen the world and with almost a lifetime's experience under his belt, he decided to go back to school. He obtained a post diploma in Ports & Shipping Administration (with distinction in a class of 80 from all over the world) and an MBA in Corporate Finance from Cardiff University – now the Cardiff Business School, University of Wales.
Instead of making the pilgrimage to the City of London as many of his peers did, he decided to go to the steel city of Sheffield in the north of England and work for Sheffield City Council. It was run by David Blunkett at the time, who was blind from birth and was later to become a hugely controversial Home Secretary in Tony Blair's Labour government in the early 2000s, before briefly being the Work and Pensions Secretary after their re-election.
Earlier, during Margaret Thatcher's premiership, the Sheffield Ethnic Minority Business Initiative had been set up to encourage minorities to go into business.
He applied for a post as an adviser to small, particularly ethnic, businesses. However, during the interview, the panel, made up mostly of White people, with one Black person, and not used to the self-confidence of Africans as opposed to other Black minorities, were sceptical about his suitability for the job.
He says he stood up and said: "Look, if you don't think I'm black enough, then I'm leaving right now!" They apologised and then he got the job.
He worked in a team that planned the regeneration of the city of Sheffield – once the 'stainless steel and silver capital of the country' but now fallen into economic degeneration. Here he gained invaluable insight into project management and regeneration.
He also worked for National Power around the time when the UK energy sector had just been shaken up and was largely privatised.
He did not know this at the time but in hindsight, he says virtually everything that had happened to him had been a preparation for his later role at the AFC.
"You have an engineering guy who goes and studies transport economics, then specialises in finance and works in the civil service in the UK – even at local government level, to understand how government thinks – and then he gets involved in the power sector. It's uncanny how all these different strands come together years later in my role at the AFC."
Return to Africa
Despite his successes in the UK, the lure of the mother country became irresistible and in 1992, he returned to Gambia as the Business Development Manager at the Gambia Ports Authority.
With his grounding in port management from university, he rose to become the MD of the Gambia Ports Authority in two years. He was working to complete an extension to the port and had signed the Engineering Procurement and Construction contract, when his world seemed to cave in.
What followed is clearly a dark period in his life and he seemed eager to move over it quickly. "I fell out with 'the Dictator' or rather The Dictator fell out with me". He meant Yahya Jammeh, who ruled Gambia with an iron fist until his ouster in 2017. He suspects the issue was nothing to do with the port but rather his role as one of the eight-member Constitutional Review Commission. They worked on a new constitution which had been promised to the people by Jammeh.
The Commission was broad-based and included religious leaders as well as economists and legal experts. Compromises had to be reached on various points but Oliver says: "I was adamant about two things: One was term limits and the other was proportional representation." Both these points must have rankled with Jammeh. The soldiers also wanted guarantees they would not be prosecuted for crimes they had committed.
But the situation became fraught and Jammeh had second thoughts about the whole thing. Quiet words were spoken to Oliver and he was told to try and get away as soon as possible. One incident that deeply shocked him was when soldiers broke into his house to search for the Constitution documents they had been working on but failed to find them. Shortly after, the building was set on fire, with his young children still inside but fortunately, they were rescued in time.
With Jammeh's hunters breathing down his neck, he and his mother escaped, secreting themselves in a charcoal truck, wading through bush and paddy fields and across rice plantations until they were over the border. What would have happened to him had he been found by Jammeh's guards hardly bears thinking about.
Incidentally, he returned to Gambia following Jammeh's ouster with a copy of the original document they had worked on, which was handed over to the newly set up constitutional review commission.
A new phase
Keeping the harrowing clash with one of Africa's most ruthless dictators behind him, he returned to the UK, he says, with only around £1,000 in his pocket, and called up his contacts to ask them if they could help him find work.
One of these was Chris Turner, an economist and World Bank consultant he had worked with on The Gambia port project. Turner had set up his own development company and promptly invited Oliver to join his firm, TCI Infrastructure.
This was circa 1987 when he says "there was hardly any project development done in Africa. What you got was grants for project preparation."
With Turner's experience as a developer in regeneration projects in Cardiff Docklands and Andrews' wide experience in finance as well as project management in Africa, they set out to tender for projects such as bridges, in various African countries.
Oliver has high praise for Turner: "Chris has always been a developer par excellence and he's the guy, in all fairness, who made me an entrepreneur in the honest sense, with my background." Turner is now chairman of Chiltern Management (Africa Limited). 
At some point, Oliver bought out Turner and became the CEO of TCI Infrastructure.
In the meanwhile, the Africa Finance Corporation had been set up to raise funds, specifically in an attempt to fill the vast infrastructure development gaps in African countries. Essential projects such as bridges, port extensions, power generation stations, highways and so on remained on paper. The AFC's task was to make these projects happen.
How Oliver Andrews eventually joined the AFC and became one of its icons is a fairly complex story which we hope to share with readers in a forthcoming issue of African Banker magazine.
At the end of the interview, I reflect that indeed my hunch that Oliver Andrews had far greater depths and adventure to him than your average financier was correct. It reinforces my belief, based on observation, that Africa continues to produce the sort of heroic entrepreneurs who seem to have disappeared from the rest of the world. They are more than entrepreneurs – they are exceptional human beings.