Xoliswa Ndoyiya – Mandela's personal chef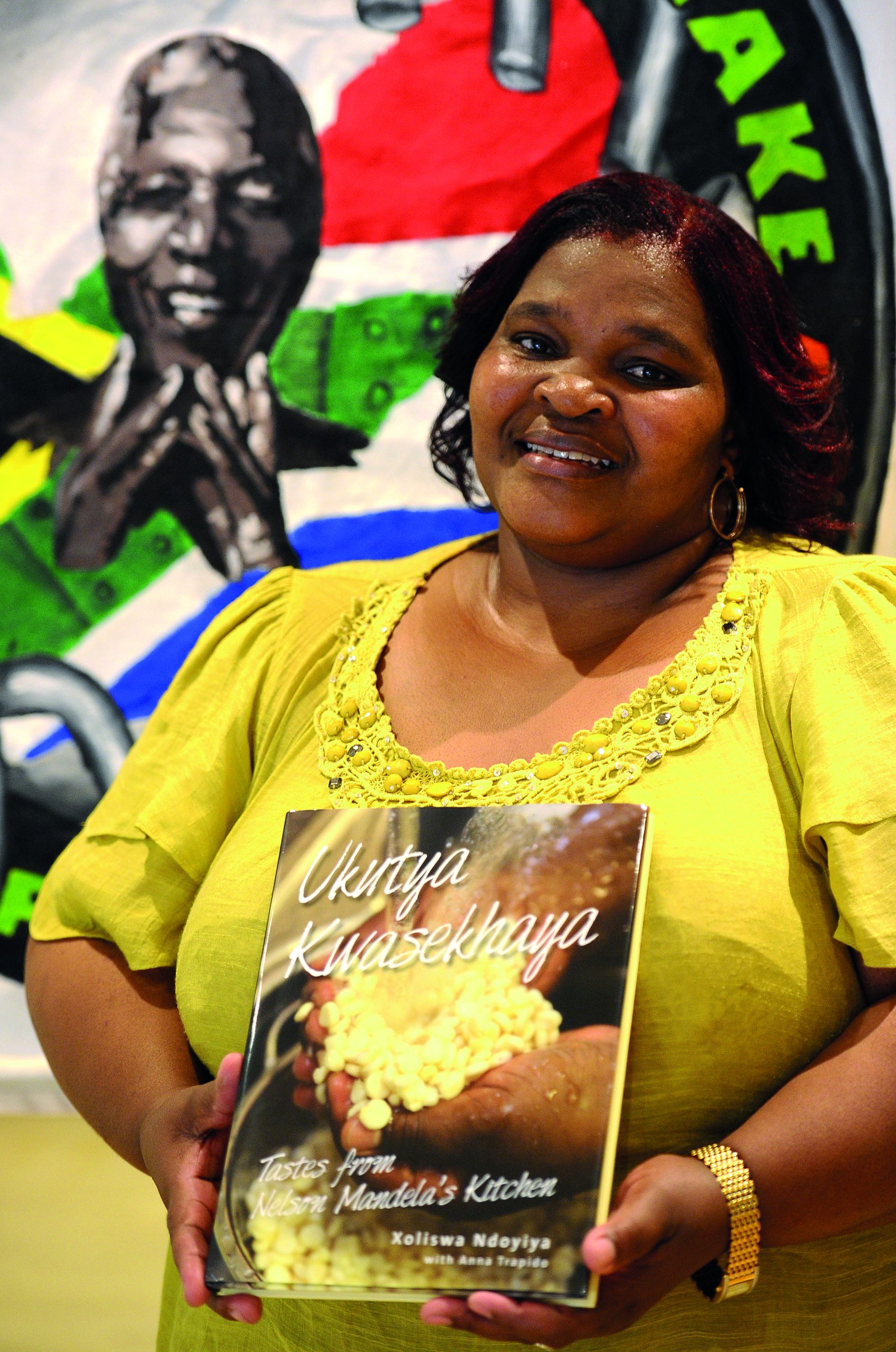 For over 20 years, Xoliswa Ndoyiya was Nelson Mandela's personal and family chef, from his presidency and his retirement until his death 5 years ago. Born in Ezibeleni, Eastern Cape where Madiba hailed from, Xoliswa is the author of the tabletop book, Ukutya kwasekhaya – Tastes from Nelson Mandela's Kitchen. She says she learnt most of her culinary skills from her grandmother. Interview by reGina Jane Jere
Tata was a father figure to me. Away from the limelight, the icon that the world so loved, he was just Tata – a simple and humble person to us. And he was a very fun person to be with. He loved to crack jokes and I loved the stories he used to tell us about the old days. He always used to make sure you were comfortable around him and never made you feel like you were a simple worker. He treated me like part of the family. I will always remember his kindness and respect for all those around him. That is how warm and simple he was.
But at the same time he was also able to show when he was angry, disappointed and not happy with you or a situation. And when things were like that, he would always call that person – worker or family – and sit down with them and discuss how to correct the situation.
Looking at how things have been in this country and even in the world, Tata would be very disappointed. What has happened in South Africa is not what we had all hoped for after achieving democracy and freedom, which Tata spent 27 years of his life in jail for. He would of course be questioning himself and asking, what have we done wrong and where can we find the solutions? He wouldn't be proud at all.
It has been a very disappointing time, but having worked for Madiba in the capacity that I did [as his personal and family chef], that was my small way of contributing to thanking Madiba for what he did for us and I am also thankful that he allowed me to contribute to his life. I am grateful that I knew him as a father to the very last days of his life and I am thankful that I helped take care of him by making sure that he ate healthily and enjoyed preparing him his favourite traditional food.
His favourite food was Umsila wenkomo (Oxtail Stew) and Umngqusho (Samp and Beans). I remember days when he would call and say Comrade [Ahmed] Kathrada or Comrade  [Walter] Sisulu, for example, were coming for lunch and that I should prepare Oxtail Stew. They would arrive at the door and shout, "We are here for Oxtail!" It was definitely a big favourite for everyone. It was a special privilege to have been honoured to feed him, both as a president and when he became the icon to the world, but even more in his life as a  private person.
Despite my disappointment with the way things have now turned out, I will never regret anything as I remember working for Madiba. But now that he is gone, and I do not work for the Mandela family any more, and everything has changed, the reality is that I still have to find ways of taking care of my children, so I have continued to work, like any other mother would do, to keep providing for my family and raise them well.
Of the many lessons that I learnt from spending time with Madiba for the 22 years I worked for him, one was that he always emphasised the importance of us parents in raising better leaders for tomorrow. That is what Madiba would expect us to do in these disappointing times in our country. But I now have high hopes in the new leadership of President Cyril Ramaphosa.
My message to my fellow South Africans as we celebrate Madiba during his Centenary is – let's not lose hope, and let's not keep dwelling on what has gone wrong but let's lift each other up in the Madiba spirit and together say: Thuma Mina (Send me).  NA