Meet Britain's most influential poet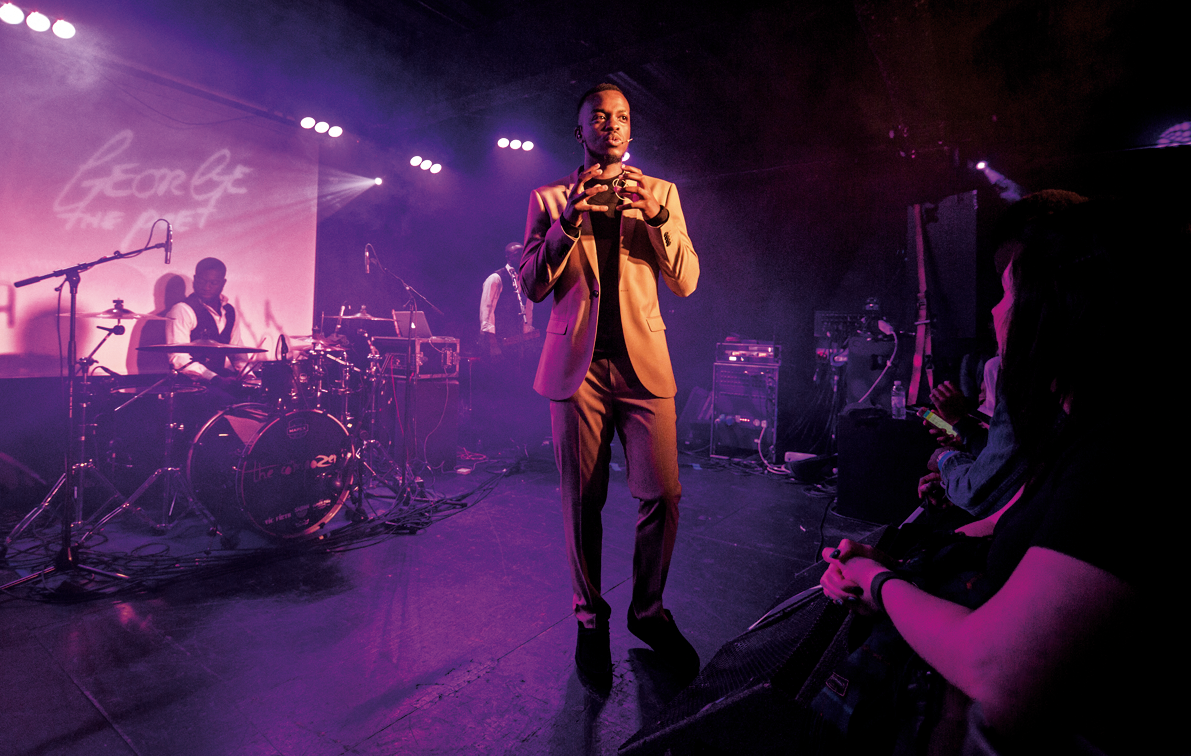 Britain's most influential poet, according to a right-wing national newspaper, is of Ugandan origin. Meet George Mpanga, who is fighting the good fight on behalf of 'Blackness' with his words. By Kalundi Serumaga
Back in 2015, I was jolted when I discovered that the person Britain's venerable, if rabidly right-wing newspaper, The Daily Telegraph called 'England's most influential poet' was a Ugandan like me.
If you have not heard of him already: meet George 'The Poet' Mpanga. By the way, if you have not heard of him, you are not alone. The full headline of the Telegraph profile on Mpanga read: "England's most influential poet (you have never heard of)'.
Four years later, I find that few Africans in the diaspora and fewer still on the continent are aware of this very gifted young man so let me take this opportunity to fill an essential gap.
I recently spent a most engrossing day with him while he was on a trip to Uganda, where he let me in on his latest work, and his plans.
"I speak to a hybrid audience, out in England and then across other places," he explained. "I want to see how entertainment can be used as a channel of education."
Born twenty-eight years ago in London to Ugandan immigrant parents, George had to undertake a nearly two-hour-long trip on the public buses to get to the grammar school at which he had won a place. "I rather liked the trip there, because that's when I got time to write," he recalls. This was followed up by winning entry into King's College, Cambridge from where, while fully immersing himself in his creative gifts, he also graduated in politics, psychology and sociology in 2013.
Having started, in his childhood, under the influence of the big (often American) rappers, he underwent a metamorphosis to become something more: quieter, deeper, more reflective and paradoxically therefore, louder.
His style settled into the "spoken word" poetry format for a long while, but has now branched out into  multi-layered aural essays that are at once deeply philosophical and immediately topical.
This very singular style is hard to classify, but it has won him several accolades, nominations and awards, an achievement he seems to carry lightly, and he leaves you feeling that he does not see them as the important aspect of his work.
I was left with the impression of a very deep thinker, with a lot on his mind, which in itself works in very complex ways.
His current project is a series of podcasts, called Sanyu's World, that can only be described as a one-man poetic opera. It functions as an odyssey between a posh girls' boarding school in Uganda to working-class inner-city neighbourhoods in Britain, and anywhere else in between, morphing into an epic tale featuring a whole series of interrelated characters, all acted by George in a multitude of accents and voices. There is a lot of technique to this.
Format-wise, I told him he had achieved an Anglo-African version of that great time/space travelling book, The Hitchhiker's Guide to the Galaxy, which was turned into the highly entertaining film of the same title.
His wider format, he told me, includes video and films – of which he has made a few as a wholly multimedia experience. It is a form of entertainment that is also highly educative.
The poet's concerns, in summary, are about 'blackness', and what it means in global terms. Ultimately, he deals with how all humans understand each other, in relation to their various problems. As a child of North London, he knows more than a thing or two about the racism and marginalisation of not just black and Asian communities, but also poor white ones as well.
Only recently, he was brought back to reality when one night, while visiting his parents following a sold-out concert, the London police accosted him, handcuffing him, and wasting his time with spurious demands for some form of identification (not many people may know this, but there is no legal obligation to carry any form of ID in the UK). Finally, they subjected him to a strip-search.
Telling the diaspora story
This is an old story, a problem faced particularly by black youth in Britain's cities. The aim is to 'put them in their place' through repeated humiliations.
This brings us to the issue of the African diaspora and its experiences. From the period immediately after Independence, many Africans found themselves under repressive regimes as the dreams of independence turned sour.
This was compounded by the slow economic stagnation that set in in the 1970s, ending in the denouement of the complete economic breakdown of the 1980s, as the previous two decades of turbulence finally took their toll.
Most of those who migrated from the continent between the 1960s and 1980s were the disappointed and mistreated products of one or other of these disasters. The diaspora experience is therefore not a thing apart from the overall African experience, but an integral part of it, without which the full African story thus far, cannot be properly told.
It is the children and grandchildren of those immigrants, refugees and exiles who will tell this untold story. As George is showing, they will not tell it necessarily in a way their elders see it, but in their own way. However, a key question will remain a part of it: how will the journey end?
An important component of that telling is the linking of their story to the story of other diasporas, particularly the first African diaspora, descendants of those taken during the enslavement of African peoples.
George's poetry speaks largely to the youth of all those backgrounds, in all their idioms and wise-beyond-their years' attitudes. Another is to link it back to the places of their ancestry, and hear what the youth there are also saying about their pasts, and their presents.
As Mukoma wa Ngugi, the US-born writer of Kenyan origin, once put it: " 'You do not know what it means to be Black in this country,' an American-born son told his African father. He was right."
You need to hear from George the Poet. As he told the London police officers: "If you want to know who I am, Wikipedia me, Google
me".
George the Poet is one of many other 'children of the diaspora', fighting the good fight wherever they find themselves. In one sense, they are still continuing the battle for the true independence of Africa, the dignity and relevance of the black man in today's world. They are Africa's ambassadors in the larger world and many of them are making us all proud. NA