Meet the Ghanaian pastor driving Africa's car industry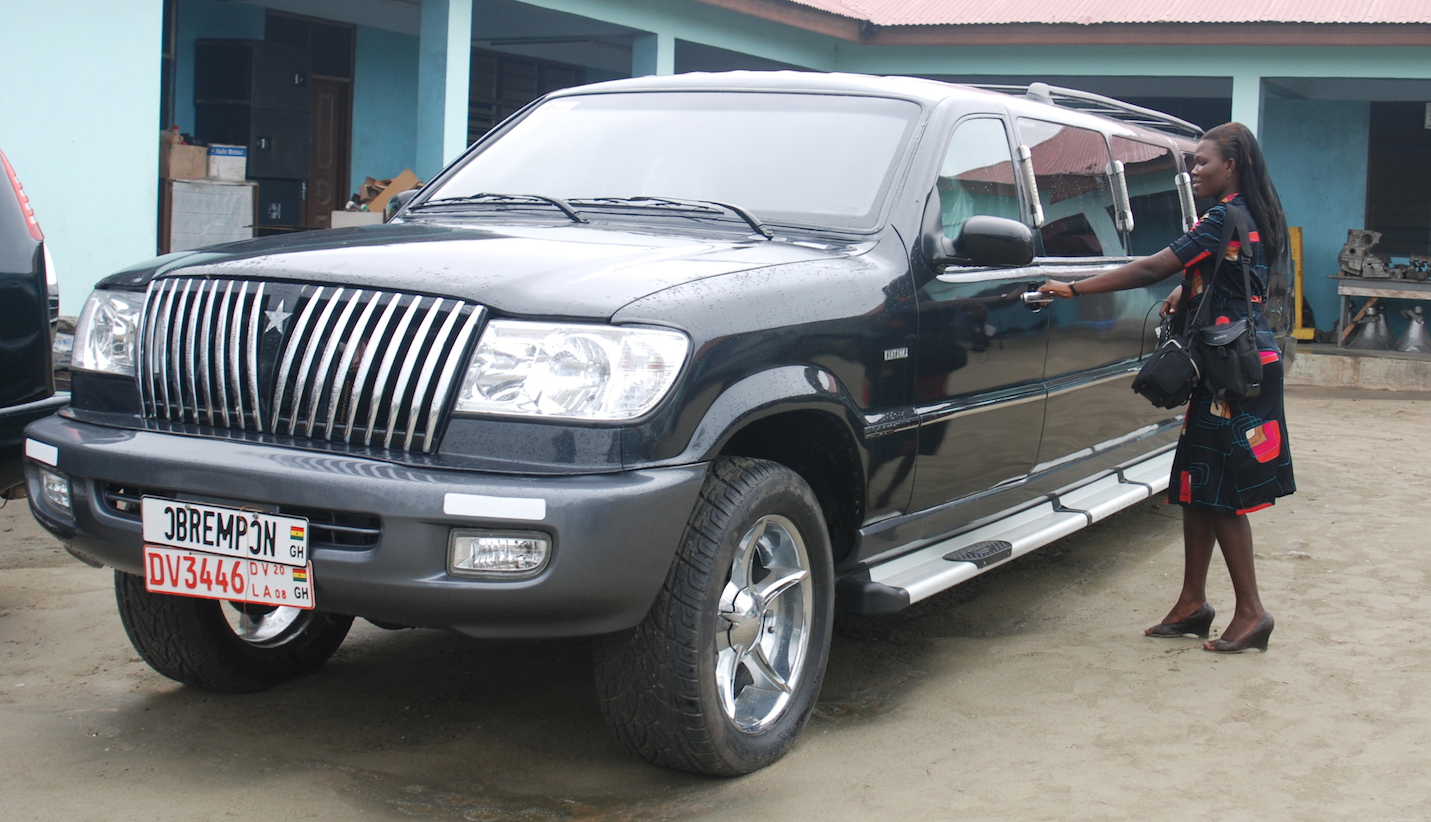 He is perhaps one of the most unsung African geniuses of his generation. Stephen Gyasi Jnr reports on the extraordinary achievements of a talented Ghanaian pastor – Apostle Kwadwo Safo – who manufactures cars, TVs, sound systems and everything in between. 
Why is the African the only person on earth who apparently cannot (or does not) make a car from scratch – from foundation to finishing – except for assembling parts manufactured by others or repairing cars made by other people? On the roads of Africa, one finds every car of every make – from Germany, Japan, USA, France, UK, Sweden, Italy, South Korea, Malaysia, China, etc – except a car made in Africa by an African! Does it say something about the African's mechanical and technological prowess?
By no means – if the handiwork of a Ghanaian religious leader, Apostle Kwadwo Safo, is any guide. The 67-year-old is a born mechanical and electronic genius who happens – accidentally some say – to be a man of the cloth.
Apostle Safo's inventions and creations disprove the idea that an African cannot make a car from foundation to finishing. Part of the African problem has been the lack of government support in direct funding, research and development (R&D), and political will for geniuses like Apostle Safo, which kills their creative talents. If the Toyotas, Volvos, Fords, Renaults, Mercedes, Protons and the other iconic brands of cars that give the African so much joy had been dreamt up in Africa by Africans, they would have remained just dreams!
The amount of money the American federal government, for example, gives in R&D funding for both public and private institutions and companies, makes all the difference for American inventions and the dominance of American businesses globally. This is what is lacking in Africa, and as a result people like Apostle Safo, who are blessed with exceptional creative talents, cannot harness their talents to the advantage of their nations.   
In a way, that has been the story of Apostle Kwadwo Safo except that in his case he did not allow the lack of government support to dampen his spirits. He soldiered on regardless until today he has become not only an inventor extraordinaire, but a reputable industrialist, agriculturist, herbalist, philanthropist, investor, and cleric!
His creations are a wonder to behold. Cars, TVs, sound systems, mechanical diggers, armoured cars, block-making machines, computers, road-sweeping vehicles, sundry electrical gadgets, you name it, Apostle Safo has manufactured them all from foundation to finishing – and sometimes he does them even better than the imported versions made by established Western and other companies. And everything he does comes from local raw materials.
His 29-year-old son, who oversees his business empire as CEO, Kwadwo Safo Jnr, told New African: "I want to dethrone [the Nigerian magnate] Aliko Dangote as the richest man in Africa one day and I have age on my side, so I'm working very hard at it." Safo Jnr uttered these challenging words when welcoming a New African team to the epicentre of his father's Kantanka Group of Companies, which spreads over 100 acres of the lush environs of Gomoa Mpota in the Central Region of Ghana.
A licensed commercial pilot and the fifth child of his father, Safo Jnr graduated from the Phoenix East Aviation School in Florida, USA. He holds a BA degree in public administration from the Ghana Institute of Management and Public Administration in Accra.
The flagship of his father's Kantanka Group of Companies is Kantanka Automobiles, based at Gomoa Mpota, that makes cars and SUVs. Also based at Gomoa Mpota is the electronics division of the Group, which manufactures TVs, sound systems, and other sundry electronic gadgets.
The wonder of Apostle Safo's achievements is that he has no sophisticated technical background, but he creates and invents to confound. As a result, schools, colleges, and universities in Ghana send students to Gomoa Mpota on internships, to study under him. Today the Kantanka Group of Companies has grown to include the Apostle Safo Suaye Technology Centre at Gomoa Mpota, Great Kosa Company Ltd, Modern Kosa Quarry, Kosa Clinic, Kristo Asafo Schools, Kristo Asafo Farms, Kantanka Automobiles, and Great Imperial Company Limited. The flourishing business empire is spread across Ghana and employs thousands of people in both skilled and unskilled capacities.
How it all began
Born on 26 August 1948 at Bekwai in the Ashanti Region, Apostle Safo started exhibiting signs of ingenuity at a very early age, when after school he would quickly do his homework and rush to the farm to collect sticks to make toy cars, helicopters and other aircraft, leaving family members and the townsfolk in awe.
The level of wisdom and competence displayed by the young Safo through oratory and craftsmanship astonished a lot of people, earning him respect from both old and young alike in the town. After basic school, he attended the Ghana Technical Works Institute in Kumasi, after which he did a three-year stint as a welder at the Volta Aluminium Company (VALCO) in Tema. Somehow, as his passion for mechanics and electronics grew, Safo's interest in Christianity grew as well. He would later, in 1971, found his own church – the Kristo Asafo (or Christ Reformed Church) which now has over 130 branches across Ghana. But extra-clerical achievements have been Apostle Safo's forte. In 1998, he manufactured his first-ever car, a five-seater he called the "Kantanka Saloon", powered by a petrol engine he manufactured from foundation to finish. This was how Kantanka Automobiles began.
In 2006, exactly 8 years after he made his first car, he manufactured his first 4-wheel- drive vehicle, which he named the Kantanka Onantefo I. In March 2007 when Paul Wolfowitz, the then World Bank president visited Ghana during the nation's 50th independence anniversary celebrations, he paid a courtesy call on Apostle Safo's Technology Centre to get a feel for what was happening there. He was amazed by what he saw – the made-in-Ghana engine blocks, vehicles, TVs, air conditioners, sound systems, solar panels, etc, that had been built with local materials.
Apostle Safo pressed on and produced an advanced model of the four-wheel drive, the "Kantanka Onantefo II" in 2007, and followed it up in the same year with a-26-foot, American-style stretch limousine called "Kantanka Obrempon". The limo became the centre of attraction at a technology exhibition in Accra in late 2007. Everything Apostle Safo manufacutures is hand-made.
As a music enthusiast, he has manufactured musical instruments from local materials. Among them are electric drums with brain units, loudspeakers, professional mixing consoles, amplifiers, pre-amps, and seven-stringed bass guitars.
He has also manufactured prototype sewing and embroidery machines, corn mills, a combine harvester, solar panels, a multi-purpose mobile block moulding machine capable of producing 18 blocks at a time, human sensor-triggered television sets, and many more.
Kantanka Group of Companies
But that is not all! The Kantanka Group of Companies expands further to incorporate Great Kosa Company Ltd – a conglomerate in itself. It has a Foundry and Pattern Development division, Plant Medicine division, Building and Construction division, Mechanical and Automobile division, Radio and Transmission division, and Electricals and Electronics division.
His Great Kosa Clinic has branches in Kumasi and Accra. His Modern Kosa Company Limited is the construction arm of the Group, which specialises in the construction of houses, roads, bridges, and dams. His Great Imperial Company Limited operates intercity bus services in Ghana. Established 24 years ago, it has additional operations to Nigeria, Burkina Faso, Niger, Togo, and Côte d'Ivoire. The Imperial Nail Manufacturing Company makes different types of nails, nail wires, bolts, nuts and other accessories. Meanwhile Kristo Asafo Schools are littered across Ghana and offer quality education from crèche to senior high school, vocational, and technical schools.  Most notable among them are the Apostle Safo School of Arts and Sciences, and the Apostle Safo School of Architecture, both based in Accra.
The Safo Nyame Cold Stores is yet another operation. Established in 1999, it deals in frozen foods. And the Great Kosa Football Club, founded in 1991, unearths young talented players, grooms them, and markets them around the world. Kristo Asafo Farms, operating from many locations in Ghana, is another lucrative arm of the Group. Its produce is sold both locally and abroad, while part is distributed freely to the poor in Ghana.
And lastly, not least though, there is his Great Kosa Vision Company, established in 1997 as the media wing of the Group, which provides video coverage of events and functions, as well as video editing and graphic designing services. Late last year, the company's TV station, KTV, a free-to-air channel, went on test transmission, ready to roll this year. According to Safo Jnr, Kosa Vision has plans to start a multi-channel TV company on a digital platform when Ghana goes fully digital later this year.
Made in Ghana – the commercial production
The Kantanka Automobile Company will begin the commercial production of vehicles from its Suaye Technology Research Centre at Gomoa Mpota this year.
Until now the vehicles and other products have been hand-made, but after partnering with some Chinese investors who have brought in modern technology, the Kantanka Group can now produce cars commercially from Gomoa Mpota. Thus, from the current hand-made production level of two vehicles per year, the company will move to 40 vehicles per month in 2015, or 480 vehicles per year.
The new production line will complement the hand-made section where vehicles are manufactured by staff from foundation to finishing without the help of an assembly plant.
Says Safo Jnr: "We have been given the all clear to commercially produce the first made-in-Ghana vehicles for sale. We are working with the Ghana Standards Authority (GSA) for our chassis numbering, and once we finalise this arrangement any other Ghanaian carmaker in future will have no problem with getting chassis numbers for their vehicles."
According to Safo Jnr, the quality of Kantanka's vehicles and other products is high and they compete favourably with the established brands coming from abroad. "Our vehicles are made to withstand the ruthlessness of the worst roads in Ghana," he says, "and because we live here, our cars are made for our type of weather. The quality and durability levels have already received government approval for commercial production."
In fact, some of the Kantanka vehicles come with advanced features. For example, the Kantanka Obrempong II, the company's second-generation limousine, will not move if the driver does not put on his seat belt or is drunk or is wearing bathroom sandals instead of shoes. It has in-built Kantanka sensors that pick up these signals. The aim is to ensure that drivers obey road traffic regulations.
Other creations of the Kantanka Group are military armoured cars, radio consoles and a KTK 02 defensive helicopter armed with missiles, which was refused a licence to fly by the Ghana Aviation Authority because apparently Apostle Safo does not have a licence to make airplanes.
Currently, the company has two prototype electric cars: The first is a two-seater saloon called Kantanka Odeneho I. Without a combustion engine, it moves with the aid of solar rechargeable batteries, which can also be recharged with electricity. Then there is the Kantanka Odeneho II, an engineless five-seater electric car, also powered by solar energy and electricity, which uses no fuel or water.
There is also the Kantanka Daasebre, an SUV that is started and steer-controlled with the Kantanka gold watch; the Kantanka Nsoromma, an SUV that is powered by a newly-invented Kantanka Classic Vest Ignition Technology; and the Kantanka Otumfuo, another SUV powered by the Kantanka Royal Staff Ignition Technology.
With all this, it is small wonder that Apostle Safo's innovations and achievements have won him numerous awards. In 2007, the  Ghanaian government awarded him with the Order of the Volta (Member Division), one of the highest national honours in the country.
In the words of his son, Safo Jnr:  "It is time to believe in ourselves [Africans], grow what we eat and produce what we use, so that we can create jobs for our people. There was a starting point for all the advanced countries whose products we have developed an insatiable craving for today. Now is our time."