Boko Haram: fearsome yet reliant on exploited children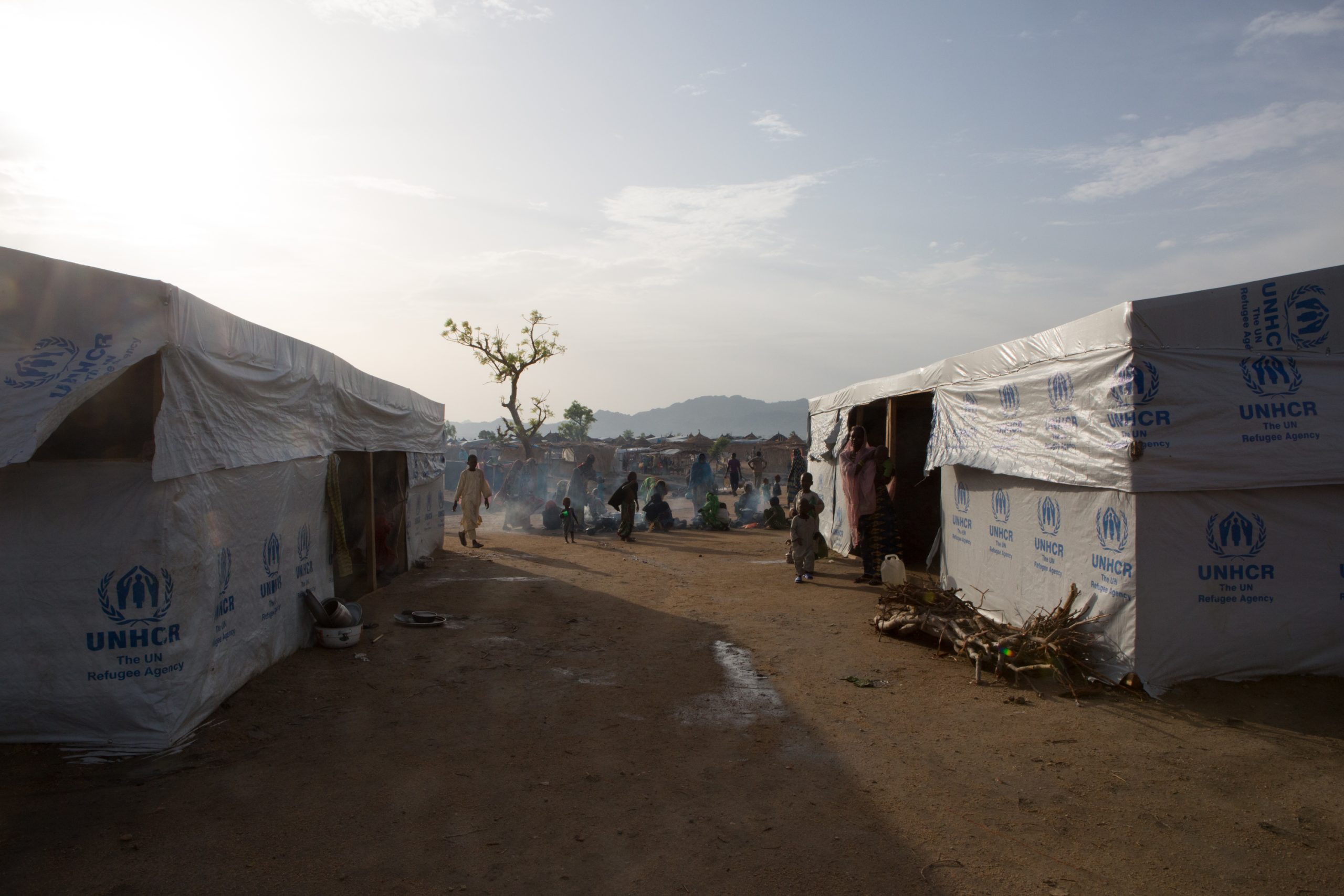 Since Boko Haram moved closer to Islamic State, its propaganda has grown slicker. The terror group continues to commit horrific crimes, but as James Schneider discovers, has been weakened and relies on underage fighters.
Over the last few years, many have wondered why Boko Haram carries out its horrendous violence. For Seini Boukar Lamine, the Mayor and Lamido (Fulani traditional ruler) of Kolofata, a town in the Far North Region of Cameroon, it is simple. "They want territories. In their minds, all of Nigeria must be Muslim, and Islam has no frontier, so they are spreading into Cameroon, spreading their Sharia law over the world," he told New African.
In pursuit of territories and to impose by force what they believe to be a just society, Boko Haram has inflicted horror upon horror. The refugees of Minawao's stories (see pages 12-16) provide one snapshot of the violence. Cameroon's Special Forces (BIR), showed New African images of burned, mangled bodies, left by Boko Haram after yet another apocalyptic raid on a village.
The violence has grown more indiscriminate as time has gone on. Joseph Naga, a Catholic priest from Pulka in Gwoza Local Government Area, now a refugee in Cameroon, told New African "At the beginning, [Boko Haram] persecuted Christians, later on they kill lots of Muslims too."
All too often, the weapons intended to protect populations have been turned against them. Another refugee, Mousa Youssoufou, a Nigerian former vigilante who fought Boko Haram, says, "When Boko Haram came to attack" his town, they had "motors like Nigerian army motors and Nigerian army khaki uniforms."
Colonel Joseph Nouma, who heads BIR's operations against the militants, told New African there "is a strong indication that [BIR has] captured [Nigerian] army equipment" from Boko Haram. Another BIR officer referred to captured "equipment which still had the identification plate on it" from Nigeria's 22nd Brigade.
The jihadists also have anti-aircraft weapons, according to Boukar. He said that militants had downed one Nigerian MIG aircraft. Eno Mbei Asek Asek, a BIR soldier and military journalist, confirmed that a Nigerian plane had "come down" but couldn't confirm whether it had been shot down.
It is unknown how many fighters are in Boko Haram. Some experts place it between 7,000 and 10,000. Boukar, who spent July to October 2014 as a hostage in a Boko Haram camp in Borno State's Sambisa Forest, estimates 20,000 group members.
However many fighters there are, the Kanuri are the largest ethnic group. Boukar says that over 40% of the fighters he met while in captivity were Kanuri. The next largest group was Hausa, with "nearly 20%". There are, he asserts, fighters from not just neighbouring countries but also further afield. "There were fair-skinned combatants," he said, but they hid from the camera when Boukar and his fellow prisoners were taken to make a hostage video as part of negotiations with the Cameroonian authorities. He suggests these men were from "Sudan, Algeria and other Arab countries".
The militants were united in their use of Arabic for military affairs and their religious devotion. Boukar said his captors read the Koran all day and sported "wild beards", which they were forbidden from shaving.
Young fighters
Most Boko Haram fighters are very young. Many are just 14 or 15. The core fighting force is comprised of teenagers, with older fighters in their mid-20s.
The youngest haven't even reached puberty. Boko Haram tries to collect the bodies of their militants slain in action, says BIR Major Nlate Ebale. Boko Haram use children around the age of 11 on the frontline to collect these corpses.
Children are brutalised from an early age, with terrifying results. Boukar recounted being told about a video of a 9-year-old who had beheaded a victim. Boukar said, "[the militants] told me this small guy was…killing every day."
The child fighters are also given drugs. Boukar said that the militants were given tablets, which were likely powerful painkillers like Tramadol. His builder found these tablets and marijuana at his house, which Boko Haram raided to kidnap him and his family.
The militants don't get paid in the camps, according to Boukar, only when they fight. As such, it is not just the repetitive diet of rice with palm oil and beans that makes them desperate to get to the front. When they are in the camp, "all they talk about is getting money and getting married," said Boukar. The young men and boys told him that they were promised lots of money if they joined the group.
One militant, who took part in the raid on Kolofata that left 17 people dead, told the Lamido that he was paid just 30,000 naira ($150) for the attack. Boukar estimates that almost CFA100 million ($170,000) was looted from his town in the attack. This means that the around 90 fighters who took part likely received little more that 10% of the loot. And this may be an overestimate, as it does not take into account the possible ransom paid to free the hostages.
Weakened but adaptable
Boko Haram's reliance on brutalised, drugged up children contributes to its ability to inflict such extreme violence. It is also a great weakness. In battle, there are few older, experienced fighters coordinating the attack. They are often identifiable by their walkie-talkies or satellite phones. BIR now use snipers to remove them from the battle early, leaving leaderless teenagers to fight or run away.
However, it is far too early to write Boko Haram's obituary. In the first month of Nigerian President Muhammadu Buhari's new administration, the jihadists demonstrated that they may be down but they are not yet out, as a series of bombings and attacks have rocked Nigeria's northeast.
The Sambisa Forest, where Boukar was held and Boko Haram had its camps, may have been partially cleared, but the militants are both able to partially melt back into populations and commit more typical terrorist attacks, such as bombings, and have other hideouts. Nouma says "many fighters" are currently in the Mandara Mountains that straddle and form part of the border between Cameroon and Nigeria.
Now the militants face a concerted military attack from four countries, which is set to increase in scale and coordination, they have changed tactics. Ebale told New African that since February, Boko Haram has fielded no heavy machinery and instead has intensified its use of Improvised Explosive Devices (IEDs).
Boko Haram's relative weakness has led it into the arms of Daesh (also known as the Islamic State). Although this has attracted column inches, it hasn't meant much on the ground. Nouma told New African that his men had not observed a notable increase in capabilities or recruitment since the 7 March pledge of allegiance. It is too soon to completely write off the impact of the alliance; if Boko Haram is indeed "waiting for the right moment to re-emerge," as Nouma worries, then the Islamic State brand could be significant. For now, Boko Haram's rebranding suggests that Cameroon, Chad, Niger and Nigeria are winning this war. But, as Nouma argues, this war cannot be won by military means alone.
So much remains to be done so that the refugees of Minawao can return to Nigeria and rebuild their lives. The trauma inflicted on so many people will bear scars for years to come.
Now, at least, with momentum on the battlefield seemingly in their favour, leaders can begin to consider how to rebuild, heal and develop the affected areas. 
This article is part of a five part series on Cameroon's battle against Boko Haram, written by New African senior correspondent James Schneider. For the other articles in the series, click the links below.