South Africa's drive for growth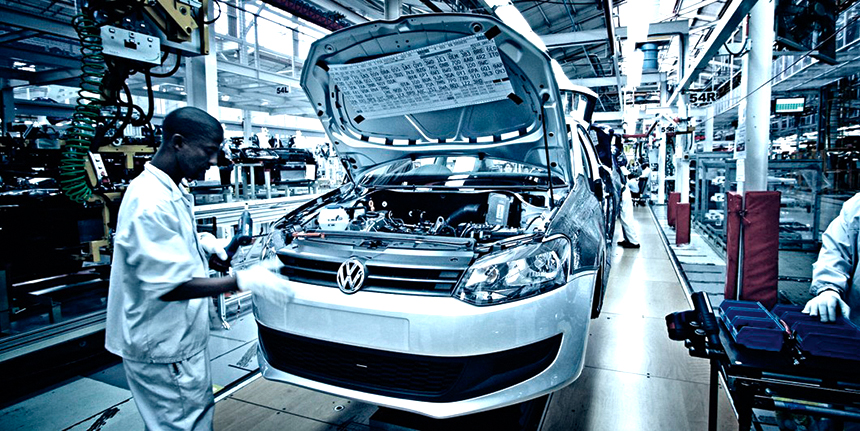 South Africa's automotive industry represents a significant part of the country's manufacturing base. While the sector is not without its challenges, it exemplifies the way that value chains can link local production with global markets. Stephen Williams reports.
South Africa has had some success in fostering a regional assembly hub for the global automotive industry. This has evolved from "completely knocked down" (CKD) assembly operation in-country, where cars are assembled from imported parts, to South Africa becoming an important component manufacturer.
But the industry has had a foothold in South Africa since the early 1920s, with Ford Motor Company and General Motors being the first to establish production presences in the country. The industry developed under a series of Import Substitution Industrialisation (ISI) programmes, with high levels of protection based on local content promotion.
Today, the principal investment incentive provided by the South African government has been the Automotive Production Development Plan (APDP) that came into force in January 2013 with a target of boosting automotive manufacturing to 1.2m per year by 2020.
In his 2014 budget statement, the Department of Trade and Industry Minister Rob Davies said the automotive sector formed part of a key area identified as a job creator in the country. His department allocated R7.9bn ($670m) for capital expenditure through the APDP in mid-2014.
Davies added that since the introduction of the Automotive Investment Scheme (AIS) in 2010/11, public sector-approved incentives amounted to $630m and supported investments worth $230m by manufacturers in the automotive sector.
The APDP aims to enable registered light motor vehicle makers and component manufacturers to significantly grow production volumes. This, it is reasoned, will create additional employment opportunities across the entire automotive value chain – an important objective when the official unemployment rate is 24.3%, with unofficial estimates running at almost double that (and 65% of young people out of work, according to the African Development Bank).
The APDP has led some of the world's biggest car makers to expand production in South Africa – at Durban (Toyota), East London (Mercedes-Benz), Uitenhage (Volkswagen) and Port Elizabeth (General Motors). BMW, Nissan, Fiat and Ford all have plants in Tshwane, Gauteng. Domestic private equity fund activity also indicates that investor sentiment towards South Africa's automotive sector is strong. Last year the South Africa-based Trinitas Private Equity acquired a 70% stake in the Auto Industrial Group, one of South Africa's leading automotive component manufacturers, with 800 employees.
Auto Industrial, which enjoys a $65m annual turnover, has a significant local market share for its product range that spans various automotive components, such as brake discs and drums, steering knuckles, wheel carriers, flywheels, wheel hubs, and pinions.
But not everyone is happy with the government's approach to wooing the carmakers. Labour unions believe that their autoworker members receive substandard employment terms, and in 2013 a lengthy strike brought matters to a head.
The strike affected all the carmakers – none more so than BMW. The German company lost 130,000 units of production until it negotiated a settlement with the National Union of Metalworkers of SA (Numsa), agreeing to pay rises for its members of 10% in 2013 and 8.5% for each of the following two years.
In total, the strike led to the South African auto industry losing revenues of about R20bn, during 2013's prolonged industrial action, then equivalent to around $1.8bn.
As well as the threat of labour strikes, car manufacturers have worries regarding economic growth in their key markets, and the disposable income in consumers' pockets. However, in this regard there may be a glimmer of hope. The optimistic view is that a falling oil price leading to lower fuel prices translates into a drop in the cost of living, and might even give a boost to sales of larger, more expensive cars. However, the 2013 strike had other ramifications. Shortly after the strike was resolved, BMW told Davies that labour unrest, which led to the loss of nearly 16% of vehicle production for 2013, had sunk the country's chances of being selected as a site for producing a new model.
BMW stated that a continued commitment to existing investment required manufacturers, the state and labour to tackle fundamental issues facing the sector.
Numsa questioned BMW's decision in an open letter to the company, Numsa deputy general secretary Karl Cloete wrote: "We must from the outset reaffirm our statement that BMW's public posture with respect to no further investments in South Africa amounts to political and economic blackmail.
"South African citizens have handsomely contributed to the profits that these multinational corporations have raked in through our taxes that have gone into the Motor Industry Development Programme (MIDP) and the introduction of the Automotive Production Development Programme (APDP), along with the introduction of the highly lucrative Automotive Incentive Scheme (AIS)," he said.
BMW's history in South Africa stretches back for three decades, with the car-maker's Rosslyn plant being the first overseas production facility to be developed by the company.
Over the years, BMW in South Africa evolved from operating simply as a CKD vehicle production plant, assembling vehicles from imported components, to establishing a world-class plant capable of supplying its 3-Series compact executive saloon around the globe.
In the mid 1990s, it made a multi-billion rand investment to rapidly increase production.
With government support from its Motor Industry Development Plan (the forerunner of the ADPD which replaced it), BMW began exporting from South Africa in 1995 with 500 BMW 3-Series vehicles shipped to Australia.
Taiwan received the first consignment of left-hand-drive BMWs in the new export programme and in June 1997 the first shipment of 323i left-hand-drive vehicles were shipped for South America.
By the new millennium BMW was exporting South African manufactured BMW 3-Series cars to the UK, South America, North America, Australia, Taiwan, Japan, countries of the Asia/Pacific rim and even Germany itself.
The US African Growth and Opportunity Act, signed into law in 2000, was also instrumental in offering further incentives for exporting cars built in South Africa into the US. By 2011, around 1,700 employees made over 53,000 BMW 3-Series cars, 25% sold in South Africa, with the balance exported. And Africa represents the second-biggest export market for South African built cars.
A new development, on the drawing board since 2008 – prefeasibility studies were completed in 2011 – also promises to drive South Africa's automobile sector. It is a project to establish a R50bn ($4.3bn) Auto City north of Pretoria.
When Tshwane Auto City is fully developed, it will be the biggest automotive cluster in South Africa, replacing the Eastern Cape as the major vehicle production centre.
BMW, Fiat and Nissan are the three major manufacturers already active in Rosslyn (although Ford has a plant the other side of the Pretoria at Silverton); and Tata Trucks and UD Trucks will also assemble within the Auto City.
The Tshwane Auto City says it will be more than a special economic zone to build a community, including affordable residential accommodation, retail areas, green spaces and recreational facilities.
Tertiary education will receive a special focus on the engineering skills required for the automotive industry. Research and development institutions are also being established.
And transport infrastructure will receive a massive boost with new road and rail links being developed and the nearby Wonderboom airport receiving an upgrade to facilitate larger aircraft to move freight to and from the Tshwane Auto City.
Tshwane Auto City's location is critical to attracting automotive manufacturers to the development. It is roughly equidistant between South Africa's biggest seaport, Durban, and Mozambique's capital Maputo, which has a car terminal at its Indian Ocean port and is well situated to serve Asian markets.
South Africa is not alone in recognising the socio-economic potential of automobile manufacturing. Nissan, one of Tshwane Auto City's founding tenants, is also anticipating establishing new production facilities in Nigeria. Working closely with the Nigerian government, and in partnership with Brazil's automotive sector, the Japanese manufacturer has its eyes set on adding a further node to its global supply chain.
However, South Africa has a head start in this most globalised of industries, and some of the most sophisticated engineering facilities in Africa. For example, it holds 80% of the world's platinum reserves – the metal is crucial for the manufacture of catalytic convertors.
The 600,000 vehicles manufactured annually in South Africa represent only about 1% of total global production. But to South Africa this is highly significant. The sector contributes around 7% of GDP and provides around 100,000 manufacturing jobs.