Cameroon: Exploring the ancient kingdoms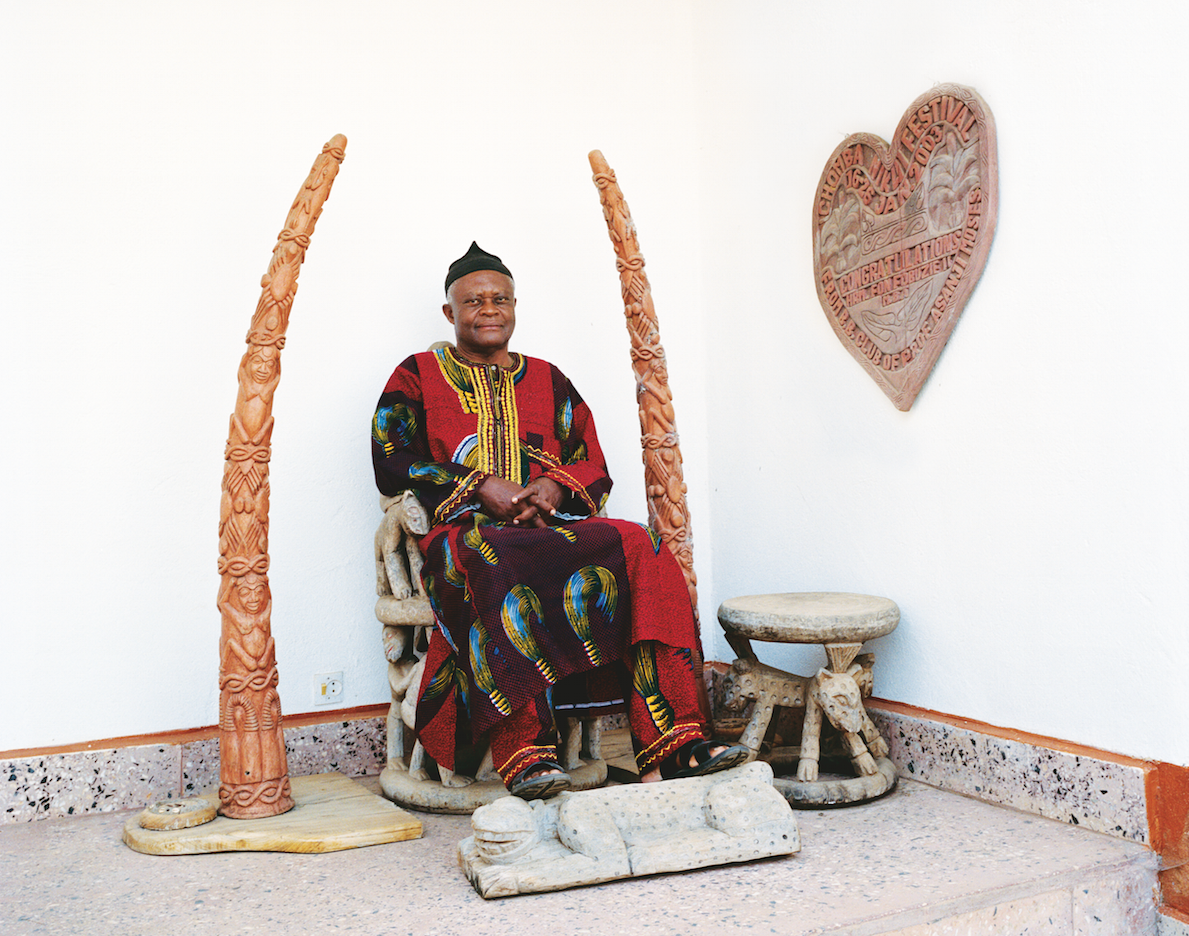 African history and its cultures are said to be some of the oldest in the history of mankind. It is therefore very exciting to see some of this culture still so richly preserved, as Kate Eshelby found out when she travelled and visited the Fondom kingdoms in Northwest Cameroon. She is in awe of their enthralling glory.
Clang-clang, the gong resounds, as King Fobuzie II strikes it while speaking to his ancestors. "I'm telling them you are here," he says, dressed in a long red dashiki and matching trousers. The spirits of three previous kings are here in several pots in a large spacious room. We are surrounded by paraphernalia from past ceremonies, carved wooden stools and an earlier ritual fire.  
This is inside Chomba village's palace in Northwest Cameroon, where I have come to explore the many ancient kingdoms known as Fondoms: each ruled by a Fon (king). There are literally hundreds of them spread across an area little larger than Wales in the United Kingdom. Each one has an enormous palace full of splendid symbolic architecture and art, unique to this region.
"Every aspect of life here starts and ends at the palace," Fobuzie explains. These Fondoms act like their own states, Romeo, my guide, expands. "They could rule themselves, without any government help, because they use their own complex system and customs." The Fon is supremely revered and his word is held higher than the law.
"It was a complete shock to me when I was chosen," Fobuzie says. A Fon is appointed by his predecessor, who chooses one of his sons, excluding the eldest. "No Fon ever dies. He just disappears, and it is not until this moment that the heir is announced," he continues.  
In the world of the Fondoms, ancestor worship plays a big role and they are consulted before any important events, including the choice of the next Fon. The whole realm is full of secrecy and mysticism. Around the palace there are many signs of it, with specific rooms for libations, sacrifices and a towering three-tiered black ancestor house in one of the courtyards.
The palace is a labyrinth of gates and courtyards (for security reasons, making it hard to find the king). As we twist and turn Fobuzie points at a red earth house with big, haphazardly painted black spots. "This is the kwiFon's house; a secret society. It's forbidden for anyone except their members to enter," he says. "It's where they perform magic."
Secret societies
Close by is a shrine under a tree, consisting of several small standing stones. "We call these heads. They are symbolic of our ancestors," Fobuzie continues. "We settle difficult disputes here." A maze of overgrown gardens threads between the various rooms and buildings, adding to the magical feel.
The Fon relies on multiple secret societies, all shrouded in mystery. Members perform various tasks while hidden under startling wooden helmet masks, with netting covering their faces, and dressed in elaborate gowns. I spy one made of thousands of chicken feathers – it gives me a sense of foreboding, but is exquisite and could grace any Paris fashion catwalk – and another with hundreds of pockets full of occult medicine. "The kwiFon are my traditional council and law enforcers," he says. "People spend years of initiation before they can join."
Each of the many reception areas has a huge throne, with scenes of wild animals and human figures expertly carved into the dark wood, or embellished with multi-coloured glass beads. One has mammoth elephant tusks arching over it. "All this symbolises power," Romeo says. A bag made from a crocodile"s head hangs on one wall, leopard skin rugs cover the floors and all around are beaded animal-shaped masks and sculpted tables – each museum-worthy.
Travelling around the region there are traditional mud and bamboo palaces everywhere, with numerous corrugated iron conical roofs (formerly thatched), like silver teeth dotting the landscape.  Inside are ornately carved doorways and totem-pole-like columns.
This area is high grassland; full of mountains, plateaus and powerful waterfalls. Tall grasses frame copper red roads and it's the home of the Bamileke people – descendants of the ancient Egyptians.
Driving here from Douala – not the capital, but the country's biggest city and where I flew into – Cameroon instantly exudes its own particular mysticism; little is ever certain and straight answers are rarely given. No journey is without numerous roadblocks and long lorries piled with wood from the country's east (part of the Congo basin) bounce along the pot-holed roads.
Motorbikes laden with people tear past – no one wears a helmet, and people stand by the roadside selling handfuls of wild rats, hanging them by their tails; gazelle, pangolin and hedgehog. "Rats are a delicacy here," Romeo says.
The world, particularly outside Africa, recalls Cameroon as a country thanks to footballer Roger Milla, who scored four goals as the team became the first African side to reach the World Cup quarter-finals, in 1990.
It's a country on the Atlantic coast; colonised by the Germans, French and English, which bridges West and Central Africa. It's politically stable, yet surrounded by neighbours no-one wants; Nigeria's Boko Haram terrorists (responsible for several recent kidnappings in the far north) cross its borders, Chad poses security problems and Central African Republic (CAR) is in the midst of horrific religious violence. Cameroon may be peaceful, but as is common in most parts of Africa, though it is rich in natural resources (with petrol, coffee, cocoa and wood), not everyone has benefitted from the riches, especially women, who still remain largely economically disempowered.
King Fobuzie has therefore gone against one notion which is still common in most parts of Africa – marginalising women. He is an ardent supporter of women's empowerment, to the extent that he has in fact been invited to many international conferences on female issues and was recently crowned champion of women's empowerment at one. "Men have criticised me for this. They say I am fitting teeth in women's mouths," Fobuzie says.
The king is also involved with MUSAB, a local charity set up to campaign against local traditional widow rites. "Here there is no such thing as accidental death," Fobuzie explains. "A widow is blamed."
As a result she is thrown out of her home, often forced to marry her brother-in-law.They cannot chop [eat in pidgin English – a language spoken here] with others, and are kept isolated at home for weeks," he continues.
Since becoming king at 15, he tells me that he quickly realised much of his support came from women and hence their importance.
He relied on his mother for advice (the queen mother is esteemed here), his mafu (a palace lady crowned as princess) and all the wives of previous kings, who he inherits. He also has a harem of his own wives.
One courtyard is full of mud and bamboo houses where all his wives and children live. I ask him how many he has. He laughs, saying: "Would you ask me how much money I have in the bank?"
He continues to divulge how women are far more proactive here than men and how it's usually their earnings that pay for children to go to school.
Tradition vs modernity
Next stop is Nsongwa's palace. whose Fon, like many others, is educated, and has a job as well as being a Fon. He works as an agricultural technician. "This area is individual because it blends very-much-alive tradition with modernity," Romeo explains.
The palace, beside a sacred forest, has pictures of wild animals painted on the walls, huge talking drums carved from tree trunks and two standing stones.  As I wait to be received, clutching my customary gift (a bottle of wine) for the Fon, I overhear some villagers. Much of their conversation is laced with talk of magic. One tells of a friend struck dead by thunder because of a spell put on him for having an affair, another mentions a nearby lake disappearing because the village spirits were unhappy and another tells of a man who turned into a panther.  
Inside the palace we sit in one of the courtyards where there is a line of stone seats. "These are for the council of 9 who act like the supreme court," Nsongwa's Fon says. "It's actually they who rule, not the Fons. This is our Cameroonian approach to democracy," he continues.  
From here we go to Foumban in West Cameroon, the home of the sultan who rules over the enormous Bamoun kingdom, and whose power is even more pre-eminent than the Fons'. Early morning peach light descends on his palace, which has a German baroque brick front, carved wooden balconies with snake motifs and Romanesque arches. Mist climbs over terracotta roofs and people emerge around the pink mosque surrounded by market stalls where they breakfast on French bread, beans and rice.
The streets here are full of artisan workshops, selling the art this region is so famous for. Rooms are stacked high with dusty masks, wooden pygmy figures with ET eyes and beaded sculptures.
My final destination is Mount Oku, which at 3,011 metres is West Africa's second highest mountain. It's rural and quiet, with an isolated Himalayan feel. The nights are cool and I snuggle under a blanket in King David's hotel, a simple guesthouse where power cuts are common.  
Up here Fulani herd their cows and the shimmering blue waters of a huge sacred crater lake collide with almost blue-forested mountains. Oku's Fon, Sintieh II Ngum Martin, dressed in Mickey Mouse shorts and an animal skin hat, tells us not to swim in the lake because he hasn't yet performed his sacrifices there. "Sacred lakes do many wicked things," he says.
The Fon is creating a museum of local carvings, and clothes and masks which are worn for the theatrical masquerades performed throughout this area.
Sintieh points at one. "This is mabu, a messenger who instils panic when he places a particular leaf on your doorstep," he says. "When this happens you know you are in serious trouble and must hurry to the palace, bringing a fowl or calabash of palm wine."
Leaving the palace, I walk back to the main road to find the area's only restaurant, where I order delicious huckleberry leaf, fufu and chicken.
Early the following morning we climb the mountain: walking through farms up into montane forest draped with old man's beard, and onto lofty grassland covered in wild flowers.   
Suddenly we hear sounds of men shouting. I look below. Three men are chanting loudly, maniacally throwing their arms upwards and asking the heavens to open. "They are performing magic," Romeo says.
Here there is no escaping magic. And although it can take time to adjust to this country, it soon works its magic on you, willing you to return. From up here, I watch the birds of prey paraglide and the sun warms my skin. It feels like the top of the world.